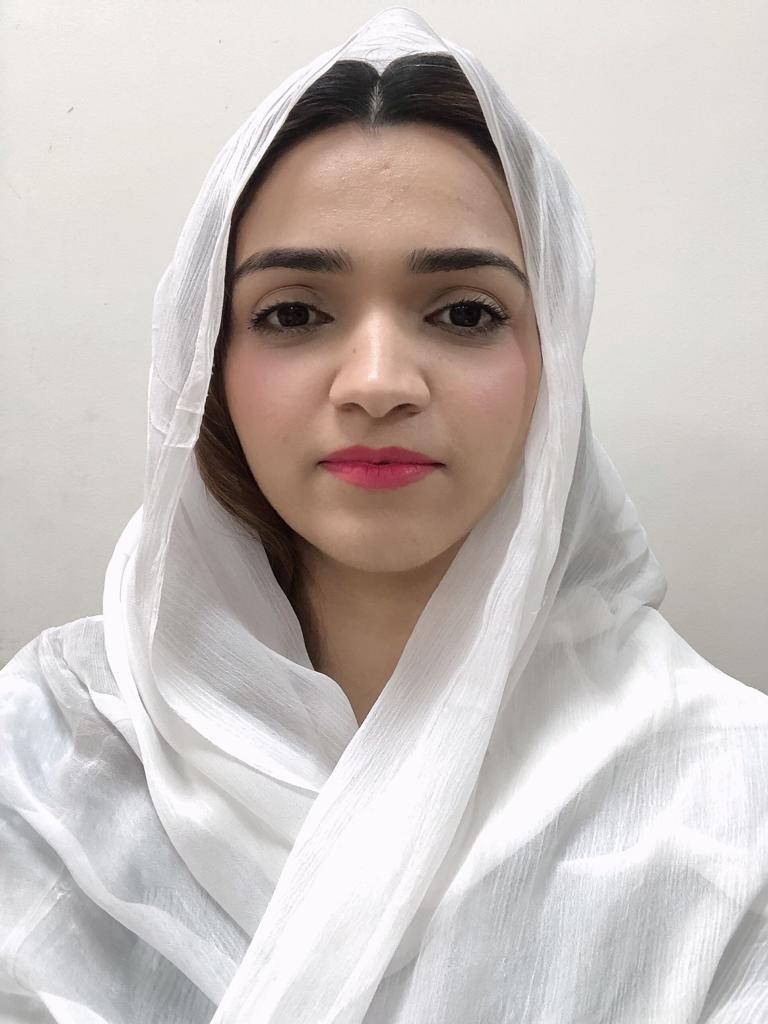 Anatomy, community medicine,sociolgy
Fields of Research (FoR):
Student Advising Schedule:
Wednesday,Thursday (10am-3pm)
Dr. Faiza Asghar, a Physical Therapist graduated from the country's pioneer institute namely Allama iqbal medical college,lahore back in 2012. Immediately after graduating from AIMC, She got admission in post graduation program TDPT in University of health sciences, Lahore.During her post graduation she joined aziz bhatti hospital gujrat for intership and served there for almost 1 years. After completion of post graduation in 2016, She got job as lecturer in a well-known organization University of Lahore,chenab campus,Gujrat. She always interested in teaching from the 1st day of career. She taught various course throughout my teaching career but she have been so brilliant in anatomy,physiology and community medicine. She remained quite popular among his students with my friendly attitude and behavior towards them. Apart from this typical insight of her personality she has a great love for co-curricular activities. Once she was an event co ordinator of her department and had organized welcome and farewell party for students. She is health conscious and fitness enthusiast.
No. 
Designation
School/Institute/University

lecturer

University of Lahore, Chenab campus,Gujrat

date of joining =05-05-2016
| | | |
| --- | --- | --- |
| No.  | Degree / Program of Study Name | Awarding Body/University/Institute |
| | Transitional Doctor of Physical Therapy (t-DPT)-2016 | University of health sciences,Lahore |
| | Bs Physical Therapy-2012 | Allama Iqbal,medical college,Lahore |
Student Name

Research Topic

Affiliation

Group 4

Zainab afzal 

Ayesha ilyas

Sana aslam

Mahnoor shehzadi

recommendation of physical therapy in muscle strength during pregnancy

Prevelance and causes of sciatic pain during pregnancy

Comparison of shoulder pain,disability and range of motion in diabetic and non diabetic patients with frozen shoulder

prevelance of cardiovascular disease risk factors in patients with PCOS

 
Student Name

Research Topic

Affiliation

GROUP1.

Ayesha Ejaz

Huma Nayyab

Smavia Saleem

GROUP 2

Maryam Zara

Group 3

Amina Mirza

Risk factors associated with obesity among women after menopause. A population based case -control study

Prevelance of forward head posture in students with age12-18years

Frequency of club foot in cousin marriages

 
| | | | |
| --- | --- | --- | --- |
| Course Information (Name/Code) | Year Taught | Program (BS/MS/PhD) | University /Institute |
| Therapeutic exercises | 2016,2017 | BS | UOL,Gujrat campus |
| Anatomy II | 2018,2019,2020 | BS | UOL,Gujrat campus |
| Community Medicine(TMCM) | 2017-2022 | BS | UOL,Gujrat campus |
| Sociology | 2017-2019 | BS | UOL,Gujrat campus |
| Exercise physiology | 2018 | BS | UOL,Gujrat campus |
| Medical physics | 2019 | BS | UOL,Gujrat campus |
| Physiology II | 2019 | BS | UOL,Gujrat campus |
| Bio mechanics | 2018 | BS | UOL,Gujrat campus |
| Medicine I | 2020-2022 | BS | UOL,Gujrat campus |
| Paediatric physical therapy | 2020-2021 | BS | UOL,Gujrat campus |
| Electrotherapy I | 2016 | BS | UOL,Gujrat campus |