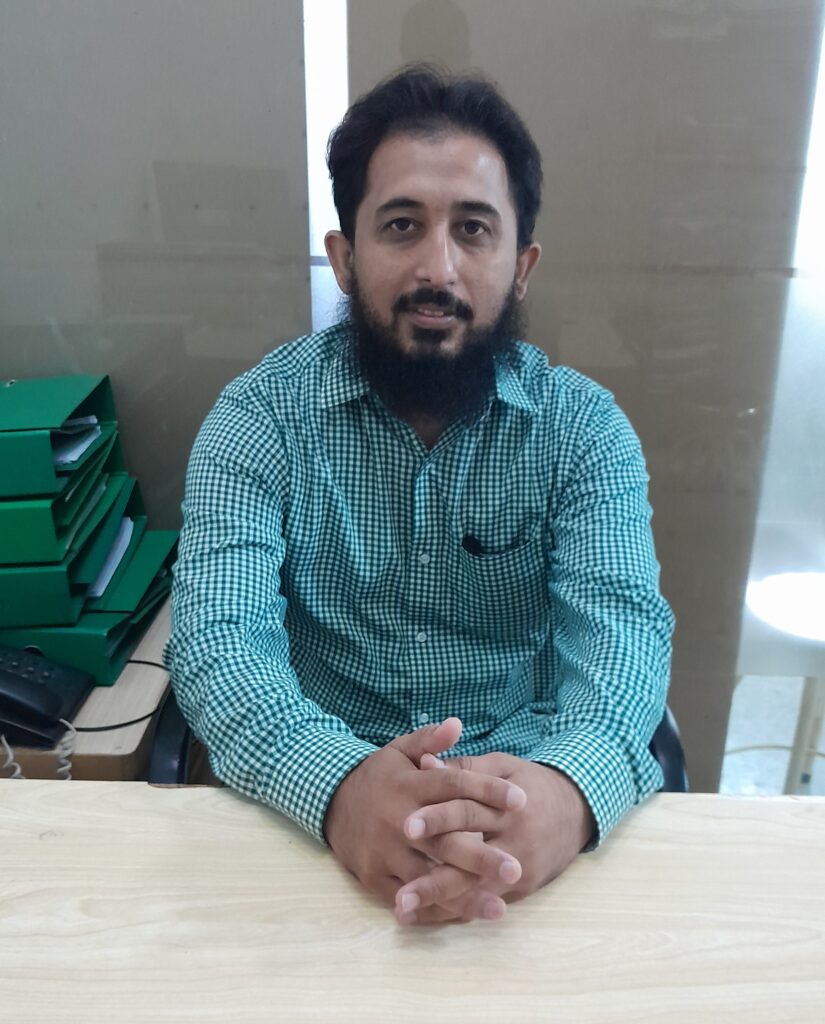 Fields of Research (FoR):
Cancer nanomedicines and Targeted drug delivery
Liposomes, Niosomes, Thermoresponsive DDS, Cancer Research
Student Advising Schedule:
Dr. Muhammad Abdur Rahim is serving as Assistant Professor in University of Chenab since March 2023. During this period, he taught various Undergraduate and Postgraduate subjects including Physical Pharmacy, Pharmaceutical Management and Marketing, Dosage Form Science, Pharmaceutical Technology, Advanced Pharmaceutics and Formulation and Product Development. Muhammad Abdur Rahim got his Doctor of Pharmacy (Pharm-D) from the Gomal University, D.I.Khan, Pakistan. He earned his Master of Philosophy (MPhil) from The Islamia University of Bahawalpur, Pakistan. He did his Ph.D., from The Islamia University of Bahawalpur under the supervision of Prof. Dr. M. Asadullah Madni. During his Ph.D., he was awarded with a six-month IRSIP HEC scholarship to visit abroad. By availing this scholarship, he visited and perform research projects based on vesicular drug delivery systems and bioprinting in PharmE3D Lab, College of Pharmacy, University of Texas at Austin, USA under the supervision of Dr. Mohammed Maniruzzaman. His research work focuses on the stimuli-based vesicular drug delivery system (liposomes) for the chemotherapeutic agent, onco-targeting therapy, cell membrane Biomimetic/cloaked nanocarriers and bioprinting for various biomedical applications.
No. 
Designation
School/Institute/University
 

Assistant Professor

(March 2023, till now)

The University of Chenab

 

Lecturer (2022 – 2023)

DAKSON Institute of health science, Islamabad.
 

Principal (2021 – 2022)

National Paramedical College Bahawalpur, Bahawalpur.
 

Lecturer (2018 – 2021)

National Paramedical College Bahawalpur, Bahawalpur
 

Researcher (2017 – 2018)

Faculty of Pharmacy, The Islamia University of Bahawalpur, Bahawalpur, Pakistan
| | | |
| --- | --- | --- |
| No.  | Degree / Program of Study Name | Awarding Body/University/Institute |
|   | PhD in Pharmaceutics (2022) | Faculty of Pharmacy, The Islamia University of Bahawalpur, Bahawalpur, Punjab, Pakistan |
|   | M Phil Pharmaceutics (2017) | Faculty of Pharmacy, The Islamia University of Bahawalpur, Bahawalpur, Punjab, Pakistan |
|   | Pharm-D (2014) | Gomal University, DI Khan |
MY RESEARCH ACTIVITIES: JOURNALS ARTICLES / BOOK CHAPTERS / PATENTS
No. 
Title 
Details
pH-Responsive Liposomes of Dioleoyl Phosphatidylethanolamine and Cholesteryl Hemisuccinate for the Enhanced Anticancer Efficacy of Cisplatin
Hassan Shah, Asadullah Madni, Muhammad Muzamil Khan, Fiazud-Din Ahmad, Nasrullah Jan, Safiullah Khan, Muhammad Abdur Rahim, Shahzeb Khan,

Meser M. Ali, Mohsin Kazi 

IF: 6.525 

Micro and Nanorobot based drug delivery; An overview

Muhammad Suhail, Arshad Khan, Muhammad Abdur Rahim, Abid Naeem, Muhammad Fahad, Syed Faisal Badshah, Abdul Jabar, Ashok Kumar Janakiraman
IF: 5.016

Fabrication, in vitro and ex vivo evaluation of proliposomes and liposomal derived gel for enhanced solubility and permeability of diacerein

Hassan Shah, Asadullah Madni, Muhammad Abdur Rahim, Nasrullah Jan, Arshad Khan, Safiullah Khan, Abdul Jabar, Muhammad Muzamil Khan
IF: 3.752

Mild hyperthermia responsive liposomes for enhanced in vitro and in vivo anticancer efficacy of doxorubicin against hepatocellular carcinoma 

Muhammad Abdur Rahim, Asadullah Madni, Nayab Tahir, Nasrullah Jan, Hassan Shah, Safiullah Khan, Riaz Ullah, Ahmed Bari, Muhammad Sohaib Khan
IF: 6.525

Lipid poly (Ɛcaprolactone) hybrid nanoparticles of 5-fluorouracil for sustained release and enhanced anticancer efficacy 

Safiullah Khan, Muhammad Naeem Aamir, Asadullah Madni, Nasrullah Jan, Arshad Khan, Abdul Jabar, Hassan Shah, Muhammad Abdur Rahim, Ahsan Ali
IF: 6.780

Statistically optimized pentazocine loaded microsphere for the sustained delivery application: Formulation and characterization 

Abdul Jabar, Asadullah Madni, Sajid Bashir, Nayab Tahir, Faisal Usman, Muhammad Abdur Rahim, Nasrullah Jan, Hassan Shah, Arshad Khan, Safiullah Khan
IF: 3.752

Cell membrane cloaked nanomedicines for bio-imaging and immunotherapy of cancer: Improved pharmacokinetics, cell internalization and anticancer efficacy 

Zahid Hussain, Muhammad Abdur Rahim, Nasrullah Jan, Hassan Shah, Mutasem Rawas-Qalaji, Shahzeb Khan, Mohammad Sohail, Hnin Ei Thu, Nor Amlizan Ramli, Rai Muhammad Sarfraz, Mohammed A.S. Abourehab
IF: 11.467

Enhanced in vitro release and permeability of glibenclamide by proliposomes: development, characterization and histopathological evaluation

Safiullah Khan, Asadullah Madni, Muhammad Abdur Rahim, Hassan Shah, Abdul Jabar, Muhammad Muzamil Khan, Arshad Khan, Nasrullah Jan, Muhammad Ahmad Mahmood
IF: 5.062

Recent advancements in stimuli responsive drug delivery platforms for active and passive cancer targeting 

Muhammad Abdur Rahim, Nasrullah Jan, Safiullah Khan, Hassan Shah, Asadullah Madni, Arshad Khan, Abdul Jabar, Shahzeb Khan, Abdelbary Elhissi, Zahid Hussain, Heather C Aziz, Muhammad Sohail, Mirazam Khan and Hnin Ei Thu.
IF: 6.575

In vitro antileukemic assessment and sustained release behaviour of cytarabine loaded biodegradable polymer based nanoparticles

Nasrullah Jan, Asadullah Madni, Muhammad Abdur Rahim, Naveed Ullah Khan, Talha Jamshaid, Arshad Khan, Abdul Jabar, Safiullah Khan, Hassan Shah
IF: 6.780

Co-delivery of curcumin and cisplatin to enhance cytotoxicity of cisplatin using lipid-chitosan hybrid nanoparticles 

Muhammad Muzamil Khan, Asadullah Madni, Nayab Tahir, Farzana Parveen, Safiullah Khan, Nasrullah Jan, Ahsan Ali, Muhammad Abdur Rahim, Umar Farooq, Muhammad Imran Khan
IF: 7.033

Microfluidic fabrication and characterization of Sorafenib-loaded lipid polymer hybrid nanoparticles for controlled drug delivery 

Asadullah Madni, Muhammad Imran Khan, Mubashar Rehman, Nayab Tahir, Nadia Rai, Farzana Parveen, Muhammad Danish Saeed, Muhammad Abdur Rahim, Hassan Shah
IF: 5.679

Reverse phase high performance liquid chromatographicdiode array detection method for quantification of rhein in microsample of rabbit plasma and application to the pharmacokinetic study

Nayab Tahir, Asadullah Madni, Wei Li, Alexandra Correia, Muhammad Muzamil Khan, Muhammad Abdur Rahim, Hélder A.Santos
IF: 0.698

Ionically crosslinked chitosan nanoparticles for sustained delivery of docetaxel: fabrication, postformulation and acute oral toxicity evaluation

Muhammad Ahmad Mahmood, Asadullah Madni, Mubashar Rehman, Muhammad Abdur Rahim, and Abdul Jabar
IF: 7.033

Enhancement of dissolution and skin permeability of pentazocine by proniosomes and niosomal gel 

Asadullah Madni, Muhammad Abdur Rahim, Muhammad Ahmad Mahmood, Abdul Jabar, Mubashar Rehman, Hassan Shah, Arshad Khan, Nayab Tahir, Aamna Shah
IF: 4.026

Non-invasive targeting of the Posterior segment of eye

Asadullah Madni, Muhammad Abdur Rahim, Muhammad Sarfraz, Prince Muhammad Kashif, Syed Faisal Badshah, Hélder A. Santos
IF: 5.679 

Drug-Polymer interaction studies of cytarabine loaded chitosan nanoparticles 

Madni, Asadullah; Kashif, Prince Muhammad; Nazir, Imran; Tahir, Nayab; Rehman, Mubashar; Khan, Muhammad Imran; Rahim, Muhammad Abdur; Jabar, Abdul
IF: 0.698 

Formulation and compatibility assessment of PLGA/Lecithin based lipid-polymer hybrid nanoparticles containing doxorubicin

Asadullah Madni, Komal Shah, Marium Tariq, Ariba Baloch, Rabia Kanwal, Muhammad Abdur Rahim, Muhammad Imran Khan, Mubashar Rehman
IF: 0.555

Devising interactive dissolution experiment for pharmacy students (part ii): use of dialysis bag method to evaluate effect of dialysis bag length on drug release from novel drug delivery systems

Nayab Tahir, Asadullah madni, Prince Muhammad Kashif, Mubashar Rehman1, Ahmed Raza, Muhammad Imran Khan, Muhammad Abdur Rahim, and Abdul Jabar
| | | |
| --- | --- | --- |
| Student Name | Research Topic | Affiliation |
| | | |
| --- | --- | --- |
| Student Name | Research Topic | Affiliation |
| | | |