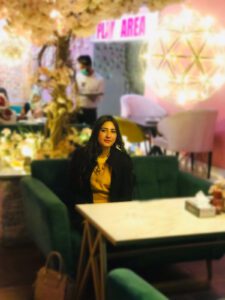 Fields of Research (FoR):
Women Health , Neurology, Musculoskeletal
BMI, Depression, Bobath , Neuromoblization
Student Advising Schedule:
Dr Nayab a physiotherapist by profession graduated from University of Lahore in 2018with distinction, and then she joined Social Security Hospital for training in Physical Therapy Department. Immediately after graduation he got job in a Gonadal hospital Gujranwala. She is passionate about providing a tailored approach to each of her patients, where their own experiences, abilities, and goals are incorporated in order that they achieve the best possible outcomes. Afterward she moved to Bethania Hospital Sialkot and severed there for almost 2 years. Nayab loves to share her enthusiasm for healthy living and fitness. She brings this passion to her work with patience, extensive knowledge, and true love of her craft she seeks to educate and inspire her clients to make lasting changes in their lives and achieve their goals. Then she got an opportunity to serve as a lecturer in a well-known organization named as University of Lahore. Besides this job she was doing post doc in Master in science of Neurology from University of Lahore Main campus Lahore. Previously she is performing her duty as a lecturer in university of Lahore; there she had arranged different events and workshop on Basic Life support on recue 1122 and took part in many activities that enhance the knowledge. Recently she was performing duty as a lecturer in University of Chenab. She has found his best outcomes result from teaching focused on education and exercise. She had taught different course throughout his teaching career but her expertise is in Neurology. She had a publication in different research papers that showed a great passion for research. She's also delivery her research paper in 2 different international Conferences. She remained quite popular among his students with his friendly, kind attitude towards them. She has a confident personality with great speaking skill because of which she can easily convey her message and convince other. She has a great friendly and helping nature this thing help to keep him popular among her friends and family. She is enthusiastic in seeking knowledge.
| | | |
| --- | --- | --- |
| No.  | Designation | School/Institute/University |
| 1 | PHYSIOTHERAPIST  | GONDAL HOSPITAL  GUJRANWALA   FEB 2018 |
| 2 | PHYSIOTHERAPIST | CHATTHA HOSPITAL GUJRANWALA   MAY 2018 |
| 3 | PHYSIOTHERAPIST  | BETHANIA HOSPITAL SIALKOT  OCT 2018 |
| 4 | LECTURER | UNIVERSITY OF LAHORE         FEB 2020 – May 2022 |
| 5. | LECTURER  | UNIVERSITY OF CHENAB         May 2022 – Presently |
| | | |
| --- | --- | --- |
| No.  | Degree / Program of Study Name | Awarding Body/University/Institute |
| 1 | Master's in science of Neurology | University of Lahore               2022 |
| 2 | Doctor of physical therapy  | University of Lahore                2018 |
| 3 | History and school of thought in Manual Therapy  | Academy of orthopedic and manual therapist (AOMPT)                                     2019 |
MY RESEARCH ACTIVITIES: JOURNALS ARTICLES / BOOK CHAPTERS / PATENTS
| No.  | Title  | Details |
| --- | --- | --- |
| 1 | Obesity and Overweight in Women with Knee Osteoarthritis Secondary to Menopause | The Healer Journal of Physiotherapy and Rehabilitation Sciences, 2(3), 197–204 |
| 2 | A Prospective Cohort Study on Suspected COVID-19 Patients undergoing Nasopharyngeal Swab PCR and HRCT | Pakistan biomedical journal |
| 3 | A comparative study to access the awareness of Gross and Sensory-motor milestones among mothers of Rural and Urban areas | Journal of Xi'an Shiyou University, Natural Science Edition |
| 4 | PREVALENCE AND POTENTIAL ETIOLOGIES OF BIPOLAR DISORDER AMONG FEMALES OF REPRODUCTIVE AGE | Journal of Xi'an Shiyou University, Natural Science Edition |
| 5 | Prevalence and Associated Risk Factors of Vestibular Dysfunction in Females with Menopause | Journal of Xi'an Shiyou University, Natural Science Edition |
| 6 | A Survey to Assess Knowledge of Antenatal Care among Rural Women of Gujrat, Pakistan | Pakistan biomedical journal |
| 7 | Comparative Effects of Whole-Body Vibration and Squatting Training on Balance and Mobility in Chronic Stroke Patients. A Randomized Controlled Trial | Pakistan journal of medical and health sciences |
| 8 | Association Between Gluteus Medius Strength and Gait Instability among University Students with BMI | Pakistan journal of medical and health sciences |
| | |
| --- | --- |
| Areas of Supervision  | Bachelor student of  Doctor of Physical Therapy  |
| | | |
| --- | --- | --- |
| Student Name | Research Topic | Affiliation |
| Maryam Abid | Prevalence of vestibular weakness among physiotherapy student using Fukuda stepping test  | University institute of Physical therapy |
Student Name

Research Topic

Affiliation

Sana Mushtaq

Shanza Ahmed 

Maryum Fatima

Awareness of fibromyalgia syndrome among undergraduate students of University.

University institute of Physical therapy

Ayesha Naveed

Usama Arshad 

Ali Shahzad

Knowledge, attitude& practice survey associated with pandemic covid-19.

University institute of Physical therapy

Meerab Fatima

Avoidance of activity due to fear of fall in geriatric population.

University institute of Physical therapy

Safa Salam

Prevalence of flat foot among children with age 5-10 years

University institute of Physical therapy

Meerab Fatima

Avoidance of activity due to fear of fall in geriatric population.

University institute of Physical therapy

Arooj 

Prevalence of cognitive impairment, hyposmia, hypoguesia and myalgia among survivor of Covid -19.

University institute of Physical therapy

Abeera 

Prevalence of carpel tunnel syndrome among small industrial workers.

University institute of Physical therapy

Sara sajjid

Anxiety, depression and stress in survivors after Covid -19 isolation.

University institute of Physical therapy
Course Information (Name/Code)

Year Taught

Program (BS/MS/PhD)

University /Institute

MEDICAL PHYSICS

MP-836

SPRING/ 2020

BS

UNIVERSITY INSTITUTE OF PHYSICAL THERAPY 

ANATOMY 2

A2A-811

SPRING /2020

BS

UNIVERSITY INSTITUTE OF PHYSICAL THERAPY

KINIESOLOGY 2

KINE-813

SPRING/ 2020

BS

UNIVERSITY INSTITUTE OF PHYSICAL THERAPY

PHYSIOLOGY 2

P2H-812

SPRING/ 2020

BS

UNIVERSITY INSTITUTE OF PHYSICAL THERAPY

BIOCHEMISTRY AND GENETICS 2

B2G-834

SPRING /2020

BS

UNIVERSITY INSTITUTE OF PHYSICAL THERAPY

BIOCHEMISTRY AND GENETICS 1

BG-826

SPRING/ 2020

BS

UNIVERSITY INSTITUTE OF PHYSICAL THERAPY

BIOCHEMISTRY AND GENETICS 1

BG-826

FALL/ 2020

BS

UNIVERSITY INSTITUTE OF PHYSICAL THERAPY

BIOCHEMISTRY AND GENETICS 1

BG-826

FALL/ 2020

BS

UNIVERSITY INSTITUTE OF PHYSICAL THERAPY

PHYSICAL AGENT AND ELECTOTHERAPY 1

PAE-843

FALL /2020

BS

UNIVERSITY INSTITUTE OF PHYSICAL THERAPY

PHYSICAL AGENT AND ELECTROTHERAPY 1

PAE-843

FALL/ 2020

BS

UNIVERSITY INSTITUTE OF PHYSICAL THERAPY

PATHALOGY AND MICROBIOLOGY 1

-841

FALL/ 2020

BS

UNIVERSITY INSTITUTE OF PHYSICAL THERAPY

PATHALOGY AND MICROBIOLOGY 2

PM-841

FALL /2020

BS

UNIVERSITY INSTITUTE OF PHYSICAL THERAPY

ANATOMY 3

A2A-811

SUMMER 2020

BS

UNIVERSITY INSTITUTE OF PHYSICAL THERAPY

PATHALOGY AND MICROBIOLOGY 1

PM-841

SPRING /2021

BS

UNIVERSITY INSTITUTE OF PHYSICAL THERAPY

PHYSICAL AGENT AND ELECTROTHERAPY 1

PAE-843

SPRING/ 2021

BS

UNIVERSITY INSTITUTE OF PHYSICAL THERAPY

PATHALOGY AND MICROBIOLOGY 2

P2M-851

SPRING /2021

BS

UNIVERSITY INSTITUTE OF PHYSICAL THERAPY

PATHALOGY AND MICROBIOLOGY 2

] P2M-851

SPRING/ 2021

BS

UNIVERSITY INSTITUTE OF PHYSICAL THERAPY

PHYSICAL AGENT AND ELECTROTHERAPY 1

PAE-843

FALL 2021

BS

UNIVERSITY INSTITUTE OF PHYSICAL THERAPY

PHYSICAL AGENT AND ELECTROTHERAPY 1

PAE-843

FALL /2021

BS

UNIVERSITY INSTITUTE OF PHYSICAL THERAPY

PATHALOGY AND MICROBIOLOGY 1

PM-841

FALL/ 2021

BS

UNIVERSITY INSTITUTE OF PHYSICAL THERAPY

PATHALOGY AND MICROBIOLOGY 2

P2M-851

FALL/ 2021

BS

UNIVERSITY INSTITUTE OF PHYSICAL THERAPY

PATHALOGY AND MICROBIOLOGY 2

P2M-851

SPRING/2022

BS

UNIVERSITY INSTITUTE OF PHYSICAL THERAPY

PATHALOGY AND MICROBIOLOGY 2

P2M-851

SPRING/2022

BS

UNIVERSITY INSTITUTE OF PHYSICAL THERAPY

PHYIOLOGY 2

P2H-812

SPRING 2022

BS

UNIVERSITY INSTITUTE OF PHYSICAL THERAPY