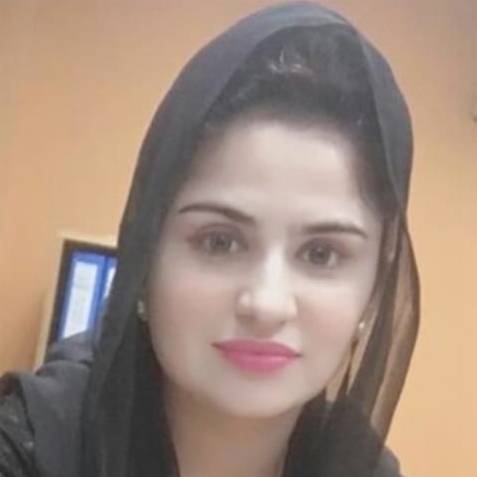 Corporate Finance, Portfolio Theory and Investment Management, Strategic Management, Financial Management,
Fields of Research (FoR):
Financial Markets, Stock Price Crash Risk, Assets Pricing, Financial Constraints, Earnings Management, Information Risk, Corporate Investment,
Crash Risk, Information Risk, Investors' Attention,
Department of Business Education
Faculty of Business Education
Student Advising Schedule:
Wednesday: 10:00 to 13:00 Thursday and Friday 10:00 to 15:00
I am Sana Saleem, working as a Lecturer of Finance at the Department of Management Sciences in University of Chenab, formerly known as the University of Lahore, Gujrat Campus, since 2016. Before joining the University of Lahore, I have been working as a lecturer at the University of Gujrat and NCBA&E. Recently I have earned my PhD Business Administration degree from the Management Sciences department at University of Gujrat. My main area of research Centre's on understanding the economic mechanisms that drive asset prices, including the dynamic behavior of stock market returns, the cross-section of stock returns, corporate finance, and the behavior of investors on stock prices. My research typically integrates economics and psychology into finance. I have published my research work in many well-renowned journals spanning the fields of finance, behavioral finance, accounting and financial reporting, including the Journal of Financial Reporting and Accounting, Asia Pacific Journal of Business Administration, Journal on Innovation and Sustainability, and Journal of Asian Finance, Economics and Business. I have been teaching Corporate Finance, Financial Management, Portfolio Theory and Investment Management, International Finance, Analysis of Financial statements, Financial Accounting, and Corporate Taxation at the University of Lahore. I am also a member of the Board of Studies, Research Committee, and Course Curriculum Review Committee in the department at the University of Chenab. As a finance teacher, my overarching goal is to promote the intellectual curiosity of my students and prepare them to make better financial decisions, both as future entrepreneurs and potential investors.
| | | | |
| --- | --- | --- | --- |
| No. | Designation | School/Institute/University | |
| 1 | Lecturer | The University of Lahore, Gujrat Campus | Since 2016 |
| 2 | Lecturer | NCBA&E Gujrat Campus | 2015-2016 |
| 3 | Lecturer | University of Gujrat, Gujrat | 2015-2016 |
| | | |
| --- | --- | --- |
| No. | Degree / Program of Study Name | Awarding Body/University/Institute |
| 5 | Doctor of Philosophy (Finance). | The University of Gujrat, Pakistan |
| 4 | Masters of Philosophy (Finance) | The University of Gujrat, Pakistan |
| 3 | BBA(Hons) with a specialization in Finance | The University of Gujrat, Pakistan |
| 2 | Intermediate in Computer Sciences (ICS) | BISE Gujranwala |
| 1 | Matriculations (Science) | BISE Gujranwala |
MY RESEARCH ACTIVITIES: JOURNALS ARTICLES / BOOK CHAPTERS / PATENTS
No.
Title
Details
1
Journal Articles
Saleem, S., & Usman, M. (2021). Impact of information risk and cost of equity: moderating role of investor attention. Asia-Pacific Journal of Business Administration.
SALEEM, S., & USMAN, M. (2021). Information risk and cost of equity: The role of stock price crash risk. The Journal of Asian Finance, Economics, and Business, 8(1), 623-635.
AKHTAR, M. N., & SALEEM, S. (2021). The Impact of Market Discipline on Charter Value of Commercial Banks: Empirical Evidence from Pakistan Stock Exchange. The Journal of Asian Finance, Economics and Business, 8(4), 249-261.
Saleem, S., Usman, M., & ul Haq, M. A. (2018). Impact of Business Strategy on Stock Price Crash Risk: Role of Overvalued Equity. NICE Research Journal, 112-129.
Usman, M., Saleem, S., Mahmood, F., & Imran, H. (2018). Does Stock Mispricing Affect the Corporate Investment Decisions? Evidence From Catering Effect. Journal on Innovation and Sustainability RISUS, 9(1), 43-54.
Muhammad, U., Saleem, S., & Mahmood, F. (2018). Stock mispricing and investment decisions: evidence from Pakistan. Journal of Financial Reporting and Accounting.
Saleem, S., Usman, M., Haq, A., & Ahmed, M. A. (2018). Decision making process and behavioral biases: Evidence from Pakistan Stock Exchange. The Pakistan Journal of Social Issues, 2018, 61-69.
Usman, M., & Saleem, S. (2015). Impact of Capital Structure on Profitability Empirical Evidence of Non-Financial Firms Listed on Karachi Stock Exchange. The Pakistan Journal of Social Issues, 6, 143-154.
2
Conference Papers
(National conference on CPEC, Institutions and Inclusive Growth in Pakistan 2018), Impact of rational decision making on Behavioral biases Evidence from Pakistan Stock Exchange
(International Conference on Management and Commerce 2018), Impact of Business Strategy on stock price Crash Risk Role from Overvalued Equity
| | |
| --- | --- |
| Areas of Supervision | Finance |
| | | |
| --- | --- | --- |
| Student Name | Research Topic | Affiliation |
| N/A | N/A | N/A |
| | | |
| --- | --- | --- |
| Student Name | Research Topic | Affiliation |
| Ms. Arwah Asif | Peer Effect on Firms' Payout Policies: Evidence From Pakistan | Supervisor |
| Ms. Amna Rafiq | Impact of Stock Liquidity on Stock Price Crash Risk: Evidence from Pakistan Stock Exchange | Supervisor |
| Mr. Naveed Akhter | Impact of Market Discipline on Bank Charter Value: Evidence from Commercial Bank | Co-Supervisor |
| Mr. Abdul Wahab | Impact of Financial Literacy, Risk Awareness and Saving Motives on Financial Decisions: Evidence from Mutual Fund in Pakistan | Co-Supervisor |
| Mr. Muhammad Haseeb | Impact of Financial Constrained on Stock Price Crash Risk: Role of Earning Management | Supervisor |
| Ms. Ayesha Umer | Impact of Corporate Social Responsibility on Investment Efficiency: Evidence from Pakistan Stock Exchange | Supervisor |
| Ms. Mahjbeen Bashir | Impact of Gender on Stock Price Crash Risk: Evidence from Pakistan Stock Exchange | Supervisor |
| | | | |
| --- | --- | --- | --- |
| Course Information (Name/Code) | Year Taught | Program (BS/MS/PhD) | University /Institute |
| Quantitative Techniques in Research | FALL-2021 | BS A&F/5 | University of Lahore, Gujrat Campus |
| International Finance | FALL-2021 | BBA/5B | University of Lahore, Gujrat Campus |
| Business Finance | FALL-2021 | BBA/REP | University of Lahore, Gujrat Campus |
| International Financial Markets | FALL-2021 | MBA/REP | University of Lahore, Gujrat Campus |
| Preparing Taxation and Computation | FALL-2021 | BSAF/5 | University of Lahore, Gujrat Campus |
| Financial Management | FALL-2021 | BBA/6 | University of Lahore, Gujrat Campus |
| Cost Accounting | SUMMER-2021 | BBA/REP | University of Lahore, Gujrat Campus |
| Macroeconomics | SPRING-2021 | BS-AVM/6 | University of Lahore, Gujrat Campus |
| Portfolio Theory and Management | SPRING-2021 | BBA/6 | University of Lahore, Gujrat Campus |
| Understanding and Managing Finance Roles | SPRING -2021 | BSAF/4 | University of Lahore, Gujrat Campus |
| Portfolio Theory and Management | SPRING -2021 | BBA/8 | University of Lahore, Gujrat Campus |
| Accounting For Costs | FALL-2020 | BSAF/3 | University of Lahore, Gujrat Campus |
| Accounting II | FALL -2020 | BBA/2 | University of Lahore, Gujrat Campus |
| Cost Accounting | FALL -2020 | BBA/3 | University of Lahore, Gujrat Campus |
| Corporate Finance | FALL -2020 | BBA/7 | University of Lahore, Gujrat Campus |
| Mergers and Acquisition | FALL -2020 | BBA/7 | University of Lahore, Gujrat Campus |
| International Financial Markets | FALL -2020 | MBA/6 | University of Lahore, Gujrat Campus |
| Accounting II | SUMMER-2020 | BBA/REP | University of Lahore, Gujrat Campus |
| Corporate  Law and Taxation | SPRING-2020 | BBA/4A | University of Lahore, Gujrat Campus |
| Investment Analysis and Portfolio Management | SPRING-2020 | BS /4 | University of Lahore, Gujrat Campus |
| Portfolio Theory and Management | SPRING-2020 | BBA/8 | University of Lahore, Gujrat Campus |
| Financial Statement Analysis | SPRING-2020 | BBA/5 | University of Lahore, Gujrat Campus |
| Accounting 1 | SPRING -2020 | BBA/6 | University of Lahore, Gujrat Campus |
| Advance Financial Management | FALL-2019 | BBA/5 | University of Lahore, Gujrat Campus |
| Business Finance | FALL-2019 | BBA/4 | University of Lahore, Gujrat Campus |
| Financial Markets and Institutions | FALL-2019 | BBA/7 | University of Lahore, Gujrat Campus |
| International Financial Management | FALL-2019 | MBA/6 | University of Lahore, Gujrat Campus |
| Cost Accounting | FALL-2019 | BBA/4 | University of Lahore, Gujrat Campus |