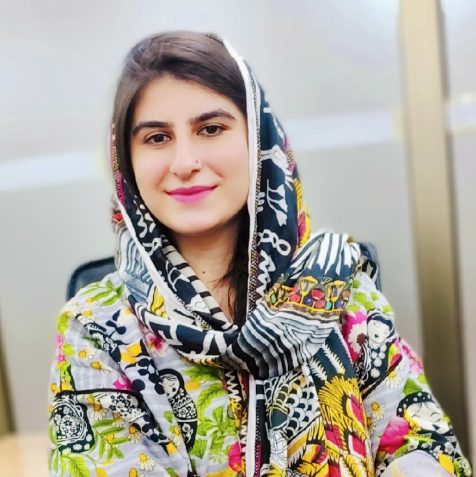 Software engineering, Machine learning, NLP, Operating system
Fields of Research (FoR):
Machine learning, Natural language processing, Data Science, Text Mining
Student Advising Schedule:
Wednesday 02:00PM-03:00PM / Thursday 11::00AM-01:00PM
Ms. Fizza Azhar received MSIT degree with research work in Machine learning and Data mining from the University of Lahore, Gujrat in 2016 and MSc. IT degree with specialization in software engineering From University of the Punjab, Gujranwala in 2014. Before that, she did Bachelor from University of the Punjab in 2012. She has 3 publications in HEC Recognized journals and conferences. Ms. Fizza Azhar has an immense teaching, research and development experience. She has 7 years of total teaching and research experience at the university level. Currently, Ms. Fizza Azhar is working as a Lecturer in the Department of Computer Science at The University of Chenab, Gujrat, Pakistan.
No. 

Designation

School/Institute/University

1.

Lecturer

From May 2022

The University of Chenab , Gujrat, Pakistan

2.

Lecturer 

From Sep 2018 to April 2022

University of Lahore Gujrat campus

3.

Lecturer

From Aug 2016 To Sep 2018

University of Gujrat Sialkot sub campus
No. 

Degree / Program of Study Name

Awarding Body/University/Institute

1.

MS.IT

2016

University of Lahore

2.

Msc.IT

University of Punjab grw campus

3.

B.Com

University of Punjab

4.

I.C.S Physics

Punjab college Gujranwala

5.

Matric (Science)

BISE Gujranwala
MY RESEARCH ACTIVITIES: JOURNALS ARTICLES / BOOK CHAPTERS / PATENTS
No. 

Title 

Details

1.

"Sentiment Analysis Approaches, Applications: A Survey"

Shamsa Umer, Maryam, Fizza Azhar, Sayam Malik, and Ghulam Samdani, "Sentiment Analysis Approaches, Applications: A Survey", International Journal of Computer Applications. Foundation of Computer Science (FCS), NY, USA

https://www.ijcaonline.org/archives/volume181/number1/umar-2018-ijca-916630.pdf

2.

"A Probabilistic Framework for Short Text Classification"

Mubashir Ali, Shehzad Khalid and Mazhar Iqbal Rana, and Fizza Azhar, "A Probabilistic Framework for Short Text Classification", 8th IEEE CCWC 2018. USA

http://ieeexplore.ieee.org/document/8301712/
| | |
| --- | --- |
| Areas of Supervision  | Web development, Machine Learning, Data Mining |
| | | | |
| --- | --- | --- | --- |
| Course Information (Name/Code) | Year Taught | Program (BS/MS/PhD) | University /Institute |
| Software Engineering/CS4346 | Spring 2022 | BSCS/BSSE | University of Lahore, Gujrat |
| Object Oriented Software Engineering/CS5311 | Spring 2022 | BSSE | University of Lahore, Gujrat |
| Software testing and implementation/CS4349 | Spring 2022 | BSSE | University of Lahore, Gujrat |
| Software Engineering/CS4346 | FALL 2021 | BSSE | University of Lahore, Gujrat |
| Object Oriented Software Engineering/CS5311 | FALL 2021 | BSSE | University of Lahore, Gujrat |
| Software testing and implementation/CS4349 | FALL 2021 | BSSE | University of Lahore, Gujrat |
| Software Quality Assurance/SE541 | Summer 2021 | BSSE | University of Lahore, Gujrat |
| Computer and its application/pharm/519 | Spring 2021 | BS pharmacy | University of Lahore, Gujrat |
| Object Oriented Software Engineering/CS5311 | Spring 2021 | BSSE | University of Lahore, Gujrat |
| Software testing and implementation/CS4349 | Spring 2021 | BSSE | University of Lahore, Gujrat |
| Software Quality Assurance/SEQA-6113 | Spring 2021 | BSSE | University of Lahore, Gujrat |
| Software Quality Assurance/SEQA6113 | Fall2020 | BSSE | University of Lahore, Gujrat |
| Software testing and implementation/CS4349 | Fall2020 | BSSE | University of Lahore, Gujrat |
| Software testing and implementation/CS4349 | Fall2020 | BSSE | University of Lahore, Gujrat |
| Object Oriented Software Engineering/CS5311 | Spring2020 | BSSE | University of Lahore, Gujrat |
| Software testing and implementation/CS4349 | Spring2020 | BSSE | University of Lahore, Gujrat |
| Software testing and implementation/CS4349 | Spring2020 | BSSE | University of Lahore, Gujrat |
| Software testing and implementation/CS4349 | Spring2020 | BSSE | University of Lahore, Gujrat |
| Database system/CS1118 | Summer 2020 | BSCS/BSSE | University of Lahore, Gujrat |
| Data Structure and algorithm/CS2112 | Summer 2020 | BSSE | University of Lahore, Gujrat |
| Data Structure and algorithm (LAB)/CS2113 | Summer 2020 | BSSE | University of Lahore, Gujrat |
| Operating system/CS3534 | FALL 2019 | BSSE | University of Lahore, Gujrat |
| Object Oriented Software Engineering/CS5311 | FALL 2019 | BSSE | University of Lahore, Gujrat |
| Software risk management/SE3219 | FALL 2019 | BSSE | University of Lahore, Gujrat |
| Operating system/CS3534 | FALL 2019 | BSCS | University of Lahore, Gujrat |
| Operating system/CS3534 | Spring 2019 | BSSE | University of Lahore, Gujrat |
| Operating system/CS3534 | Spring 2019 | BSCS | University of Lahore, Gujrat |
| Object Oriented Software Engineering/CS5311 | Spring 2019 | BSSE | University of Lahore, Gujrat |
| Object Oriented Software Engineering/CS5311 | Spring 2019 | BSSE | University of Lahore, Gujrat |
| Operating system/CS3534 | FALL 2018 | BSCS | University of Lahore, Gujrat |
| Operating system/CS3534 | FALL 2018 | BSSE | University of Lahore, Gujrat |
| Software risk management/SE3219 | FALL 2018 | BSSE | University of Lahore, Gujrat |
| Software engineering/CS4346 | FALL 2018 | BSSE | University of Lahore, Gujrat |