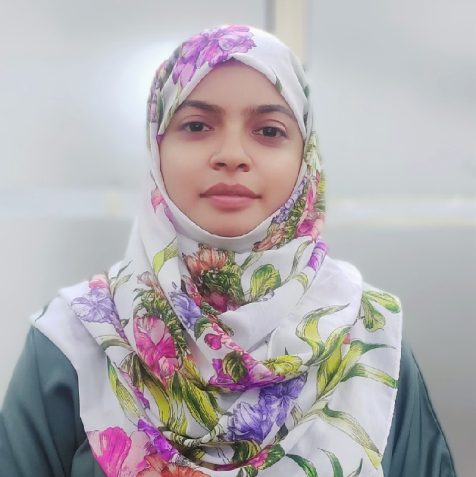 Database Systems, Software Engineering, Human Computer Interaction.
Fields of Research (FoR):
Data Analytics (Predictive Analytics, Predictive Modeling, Pattern Recognition, Predictive Behavior Analysis), HCI.
Prediction, Analysis, Data Modeling, Pattern.
Student Advising Schedule:
Tuesday 1200-1400 Hrs. / Friday 1100-1300 Hrs.
Ms. Mehk Fatima received the M.S. degree in Software Engineering from COMSATS University Islamabad in 2017. She joined the University of Lahore, Gujrat Campus as a Lecturer in September, 2018. Before that, she did her BS in Information Technology from University of Gujrat in 2014. She has 1 HEC Recognized international impact factor journal publication and 1 International Conference publication. Her research interests include Human–Computer Interaction, Data Analytics and Machine Learning. She is currently working on online information seeking behavior among emergent users. She has been associated with academia for the past 4 years. Currently, Ms. Mehk Fatima is working as a Lecturer in the Department of Computer Science at The University of Chenab, Gujrat, Pakistan.
| | | | |
| --- | --- | --- | --- |
| No.  | Designation | School/Institute/University | Duration |
| 1 | Lecturer | The University of Chenab, Gujrat, Pakistan. | May. 2022 to Date |
| 2 | Lecturer | University of Lahore, Chenab Campus, Gujrat, Pakistan | Sep. 2018 to Apr. 2022 |
| 3 | Teacher  | Emalah Foundation School & College, Rawalpindi, Punjab, Pakistan | Apr. 2015 to Oct. 2015 |
| 4 | Honorary Lecturer  | Govt. Degree College for Women Malakwal, Punjab, Pakistan | Oct. 2014 to Feb. 2015 |
| | | | |
| --- | --- | --- | --- |
| No.  | Degree / Program of Study Name | Awarding Body/University/Institute | Passing Year |
| 1 | MS (Software Engineering) | COMSATS University Islamabad  | 2017 |
| 2 | BS (Information Technology) | University of Gujrat | 2014 |
| 3 | HSSC (ICS) | BISE Gujranwala | 2010 |
| 4 | SSC (Science) | BISE Gujranwala | 2008 |
MY RESEARCH ACTIVITIES: JOURNALS ARTICLES / BOOK CHAPTERS / PATENTS
No. 

Title 

Details

1

Exploiting contextual information to improve call prediction

Authors:

Mehk Fatima

, Aimal Rextin, Shamaila Hayat, Mehwish Nasim

Year: 2019

Journal: PLoS ONE 14(10): e0223780

DOI: https://doi.org/10.1371/journal.pone.0223780

Field of Publication:

Machine Learning, Data Analytics [Predictive Analytics, Predictive Modeling, Pattern Recognition]

Journal Category: W

Impact Factor: 3.24
| | | | |
| --- | --- | --- | --- |
| Course Information (Name/Code) | Year Taught | Program (BS/MS/PhD) | University /Institute |
| Database Systems (CS1118) | Fall-2018, Spring-2019, Fall-2019, Fall-2020, Spring-2021, Fall-2021 | BS (CS), BS (SE) | University of Lahore, Gujrat Campus |
| Database Systems Lab (CS1118) | Fall-2018, Spring-2019, Fall-2019 | BS (CS), BS (SE) | University of Lahore, Gujrat Campus |
| Intro to Information and Communication Lab (CS1015) | Fall-2018 | BS (CS) | University of Lahore, Gujrat Campus |
| Introduction to Computing Lab (CS1010) | Fall-2018 | BS (SE) | University of Lahore, Gujrat Campus |
| Software Engineering (CS4346) | Spring-2019, Spring-2020, Spring-2021 | BS(CS) | University of Lahore, Gujrat Campus |
| Human Computer Interaction (SE2224) | Spring-2019, Fall-2019, Fall-2020, Spring-2021, Spring-2022 | BS(SE), BS (CS) | University of Lahore, Gujrat Campus |
| Organizational Behavior (MGT460) | Fall-2019, Spring-2020, Fall-2020 | BS(CS) | University of Lahore, Gujrat Campus |
| Object-Oriented Software Engineering (CS5311) | Spring-2020, Fall-2020 | BS (SE) | University of Lahore, Gujrat Campus |
| Object-Oriented Software Engineering Lab (CS5311) | Spring-2020, Fall-2021 | BS (SE) | University of Lahore, Gujrat Campus |
| Introduction to Computing (CS1010) | Summer-2020 | BS (CS) | University of Lahore, Gujrat Campus |
| Computer Education and Nutritional Data Lab (CENDB865) | Spring-2021 | DDNS | University of Lahore, Gujrat Campus |
| Software Architecture and Design (ECE3234) | Fall-2021, Spring-2022 | BS (SE) | University of Lahore, Gujrat Campus |