Muhammad Aadil Butt (he/him )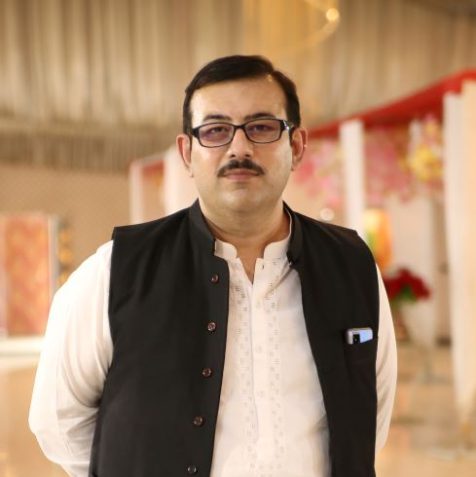 Programming, Data Structure, DataBase Systems, Analysis of Algorithm.
Fields of Research (FoR):
Cloud Computing, Cloud based Distributed Simulation, Information Security, Machine Learning, Data Science.
Cloud, Simulation, HLA, IS.
Student Advising Schedule:
Monday 12:00 – 3:00 / Friday 11:00 - 1:00
Muhammad Aadil Butt received the B.S. degree in CS from The University of Central Punjab, Pakistan in 2003 and the MS degree in CS from The University of Lahore, Pakistan, in 2018. He is currently a Ph.D. Scholar at The Superior University, Lahore, Pakistan. He has more than 15 years of teaching and research experience. He has authored several journals, conferences during his career. His current research interests include Cloud Computing, workflow management, Blockchain, Data Science and Distributed Simulation.
| | | | |
| --- | --- | --- | --- |
| No.  | Designation | School/Institute/University | Duration |
| 1. | Lecturer | The University of Chenab, Gujrat, Pakistan | May 2022 – Present |
| 2. | Lecturer | The University of Lahore, Gujrat Campus, Pakistan. | 2014 – April 2022 |
| 3.  | Associate Lecturer | University of Gujrat, Gujrat | 2012 – 2014 |
| 4. | Lecturer | Climax College & Academy, Wazirabad | 2007 – 2012 |
| 5. | Visiting Lecturer  | Chenab College of Commerce, Wazirabad. | 2007 – 2010 |
| 6. | Visiting Lecturer | Jadeed Punjab College of Science and Future Technology, Wazirabad. | 2007 – 2010 |
| 7. | Lecturer | Govt. MC Community Inter College For Boys, Wazirabad. | 2005 – 2007 |
| | | | |
| --- | --- | --- | --- |
| No.  | Degree / Program of Study Name | Awarding Body/University/Institute | Year |
| 1. | PhD Scholar (Computer Science)  | Superior University, Lahore | 2022 –  |
| 2.  | MS (CS)  | The University of Lahore, Gujrat | 2016 – 2018 |
| 3.  | BS (CS) | University of Central Punjab, Lahore | 2000 – 2003 |
| 4. | FSc. (Pre- Engg.) | B.I.S.E Gujranwala | 2000 |
| 5. | Metric (Science) | B.I.S.E Gujranwala | 1997 |
MY RESEARCH ACTIVITIES: JOURNALS ARTICLES / BOOK CHAPTERS / PATENTS
No. 

Title 

Details

1

"Model for Predicting Educational Domain Rate based on the Regional Level" 

International Journal of Advanced Computer Science and Applications(IJACSA), 

Volume 9 Issue 9, 2018. DOI : 10.14569/IJACSA.2018.090912.

2

"Cultural effects on metaphor design", 

HCII-DUXU, USA, 2015

3

Cultural effects on metaphor design, 

HCII-DUXU, USA, 2015

4

Feature Based algorithm Analysis on American Sign Language Dataset, 

International Journal of Advanced Computer Science and Applications, (IJACSA), May 1, 2019

5

Healthcare: Role of ICT in Autism, CELDA 2015, 

Maynooth, Ireland, 24-10-2015

6

Context Information Retrieval with Organizational Security Provision

International Journal of Multidisciplinary Sciences and Engineering, Vol 4, Issue 9, October 2013, ISSN 2045-7057.

http://www.ijmse.org/Volume4/Issue9.html
| | |
| --- | --- |
| Areas of Supervision  | Programming, Machine Learning, Data Science, Cloud Computing,  |
| | | |
| --- | --- | --- |
| Student Name | Research Topic | Affiliation |
| Hamas Haider Butt, Maryam , Fatiha | Plants & Planting | The University of Lahore, Gujrat |
| Affaq Ahmed, Jazib Hussain, Umer Asghar | Barter System Application for mobile | The University of Lahore, Gujrat |
| | | |
| --- | --- | --- |
| Student Name | Research Topic | Affiliation |
| Zohaib Ali, Faizan Ahmed | Planet Odyssey (Done) | The University of Lahore, Gujrat |
| Zeeshan Qamar, Hafiz hamdan khalid | Crop Land Monitoring System & Estimating Crop Suitability Using Sensors (Done) | The University of Lahore, Gujrat |
| IHTSHAM ABBAS, MOAZZAM SALEEM, YASTOOR ALI NAWAZ | Health and Diet Assistant | The University of Lahore, Gujrat |
| Khurram Shahzad, Gulsher Akram, M Awais | Bespoke Shoes | The University of Lahore, Gujrat |
| M. Haseeb, Ahmad zulfiqar, Shahzaib Anwar | Heart Disease Prediction System | The University of Lahore, Gujrat |
| Mian Talha Muhammad, Abdullah Husnain, Saad Zaheer | Intelligent Sports Predictor | The University of Lahore, Gujrat |
| Azib Shoaib, Maryam Maqsood, Mahnoor Ansar | The Defender | The University of Lahore, Gujrat |
Course Information (Name/Code)
Year Taught
Program (BS/MS/PhD)
University /Institute

Database Systems / CS1118

22

BSSE / Spring / 22

UOL, Gujrat

Data Structures Analysis of Algorithms / CS2111

22

BSCS / Spring / 22

UOL, Gujrat

Database Systems / CS1118

21

BSSE / Fall / 21

UOL, Gujrat

Visual Programming – Sec A / CS4111

21

BSCS / Fall /21

UOL, Gujrat

Visual Programming – Sec B / CS4111

21

BSCS / Fall /21

UOL, Gujrat

Design and Analysis of Algorithms – Sec A / CS3444

21

BSCS / Fall /21

UOL, Gujrat

Design and Analysis of Algorithms – Sec B / CS3444

21

BSCS / Fall /21

UOL, Gujrat

Communication and Computer Networks / ECE4358

21

BSSE / Summer / 21

UOL, Gujrat

Data Structures Analysis of Algorithms / CS2111

21

BSCS / Spring / 21

UOL, Gujrat

Visual Programming / CS4111

21

BSCS / Spring /21

UOL, Gujrat

Advance Computer Programming / COMP2401

21

BSPHY / Spring / 21

UOL, Gujrat

Linear Algebra / MA2320

20

BSSE / Fall / 20

UOL, Gujrat

Linear Algebra / MA2320

20

BSCS / Fall / 20

UOL, Gujrat

Database Systems / CS1118

20

BSCS / Fall / 20

UOL, Gujrat

Visual Programming / CS4111

20

BSCS / Fall /20

UOL, Gujrat

Intro to information & Communication Technologies / CS1015

20

BSCS / Fall / 20

UOL, Gujrat

Visual Programming / CS4111

20

BSCS / Summer /20

UOL, Gujrat

Differential Equation / MA2334

20

BSCS / Summer /20

UOL, Gujrat

Visual Programming / CS4111

20

BSCS / Spring /20

UOL, Gujrat

Design and Analysis of Algorithms / CS3444

20

BSCS / Spring /20

UOL, Gujrat

Advance Computer Programming / COMP2401

20

BSPHY / Spring / 20

UOL, Gujrat

Database Systems / CS1118

19

BSSE / Fall / 19

UOL, Gujrat

Design and Analysis of Algorithms / CS3444

19

BSCS / Fall / 19

UOL, Gujrat

Operating Systems / CS3534

19

BSCS / Fall / 19

UOL, Gujrat

Theory of Automata / CS3434

19

BSCS / Fall / 19

UOL, Gujrat

Visual Programming / CS4111

19

BSCS / Fall /19

UOL, Gujrat

Data Structures Analysis of Algorithms / CS2111

19

BSCS / Spring / 19

UOL, Gujrat

Design and Analysis of Algorithms / CS3444

19

BSCS / Spring /19

UOL, Gujrat

Visual Programming / CS4111

19

BSCS / Spring /19

UOL, Gujrat

Data Base Systems / CS1118

18

BSCS / Fall 18

UOL, Gujrat

Design Analysis of Algorithm /

CS3444

18

BSCS / Fall 18

UOL, Gujrat

Visual Programming /

CS4111

18

BSCS / Fall 18

UOL, Gujrat

Programming Fundamental II / CS1013

18

BSCS / Fall 18

UOL, Gujrat

Visual Programming /

CS4111

17

BSCS / Fall 17

UOL, Gujrat

Visual Programming /

VLPG-3102

17

BSCS / Fall 17

UOL, Gujrat

Intro to information & Communication Technologies / CS1015

17

BSCS / Fall 17

UOL, Gujrat

CS4435 / Compiler Construction

16

F16

UOL, Gujrat

Introduction to database systems

16

F16

UOL, Gujrat

Programming Fundamental II

16

F16

UOL, Gujrat

Visual Programming

16

F16

UOL, Gujrat

Introduction to database system

16

S16

UOL, Gujrat

Introduction to computing

16

S16

UOL, Gujrat

Computer Application

16

W16

UOL, Gujrat

Introduction to Computer

16

W16

UOL, Gujrat

Introduction to Computer Programming

15

F15

UOL, Gujrat

Object Oriented Programming 

15

F15

UOL, Gujrat

Programming Fundamental

15

F15

UOL, Gujrat

Visual Programming

15

F15

UOL, Gujrat

Computer Organization & Assembly

15

W15

UOL, Gujrat

Computer Programming

15

W15

UOL, Gujrat

Object Oriented Programming

15

W15

UOL, Gujrat

Computer Programming

14

F14

UOL, Gujrat

Introduction to Computing

14

F14

UOL, Gujrat