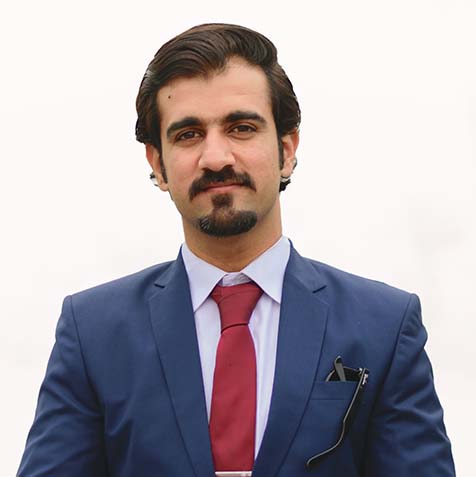 Proteomics and Nutrigenomics, Microbiology, endocrinology
Fields of Research (FoR):
Food Biotechnology, Plant Biotechnology
Student Advising Schedule:
I Saad Qayum received my M.phill degree from the Quaid-i-Azam University Islamabad, Pakistan in 2015. From 2015 to 2016 I work as a lecturer in International institute of Education and Management Science Bannu. Since August 2016 I joined University of Lahore Gujrat Campus as a lecturer. I am teaching many courses in diet and nutrition department. I received best faculty member award of 2017-2018. My research interest includes Food Biotechnology, and nano-technology and phytochemicals.
| | | | | |
| --- | --- | --- | --- | --- |
| No.  | Designation | School/Institute/University | Start Date | End Date |
| | Lecturer | University Of Lahore | 16/8/2016 | Continue |
| | Lecturer | International institute of Education and Management Science Bannu. | 1/9/2015 | 10/8/2016 |
| | | | |
| --- | --- | --- | --- |
| No.  | Degree / Program of Study Name | Awarding Body/University/Institute | year |
| | M.phil in Biotechnology | Quaid-i-Azam University Islamabad | 2013-2015 |
| | B.S(Hons) in Biotechnology | University of Science and technology Bannu | 2008-2012 |
| | | | |
| --- | --- | --- | --- |
| Course Information (Name/Code) | Year Taught | Program (BS/MS/PhD) | University /Institute |
| FUNDAMENTALS OF MICROBIOLOGY/ FM-825 | 2016-2020 | DDNS | UOL |
| METABOLIC ENDOCRINOLOGY/ MEND-941 | 2019-2021 | DDNS | UOL |
| PROTEOMICS AND NUTRIGENOMICS/ PN-953 | 2017-2022 | DDNS | UOL |
| HERBS, FOOD AND PHYTOCHEMICALS/ HFP-956 | 2018-2022 | DDNS | UOL |
| GENERAL MICROBIOLOGY/ MLTGM- | 2019 | MLT | UOL |
| ADVANCE HUMAN NUTRITION, CARBOHYDRATE, LIPID AND PROTEINS/ AHNCLP-923 | 2020 | BDNS | UOL |
| Institutional Management | 2021-2022 | DDNS | UOL |
| Nutraceuticals and functional foods | 2019 | DDNS | UOL |
| Controversies in field of Nutrition | 2022 | DDNS | UOL |