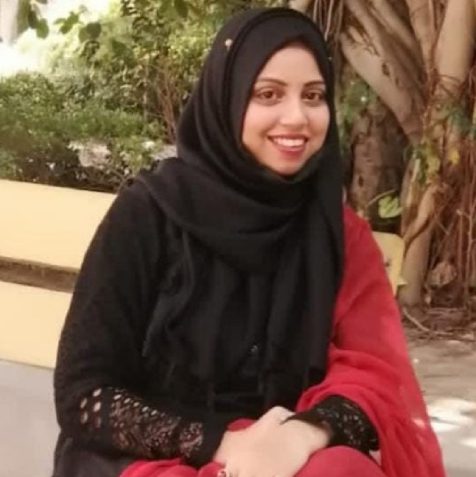 Semantics, pragmatics, morphology, psycholinguistics, sociolinguistics, SLA
Fields of Research (FoR):
Keen observation, analytical thinking
Student Advising Schedule:
I have been working as a Lecturer in the Department of Languages since September 2019. Here, I have been teaching at BS level and also supervise BS final year projects. Prior to joining UOL, I had also been teaching as a visiting lecturer at university of Gujrat for one year 2018-2019. Moreover, I am a dependable person who knows how to manage things properly and my co-workers rely on me to be on time. I am always energetic and eager to learn new skills. My ultimate goal is to expand my knowledge and skills and serve the organization making a contribution to its success.
No. 

Designation

School/Institute/University

1

Visiting Lecturer 

(2018-2019)

University of Gujrat 

2

Lecturer (2019 TILL TODAY)

University of Lahore 
| | | |
| --- | --- | --- |
| No.  | Degree / Program of Study Name  | Awarding Body/University/Institute |
| 1 | Matric (2009) | BISE Gujranwala  |
| 2 | F.sc. (2011) | BISE Gujranwala  |
| 3 | BS English (2015) | University of Gujrat  |
| 4 | MPhil applied Linguistics (2018) | University of management and Technology(UMT), Lahore  |
| | |
| --- | --- |
| Areas of Supervision  | Semantics (Linguistics) |
| | | |
| --- | --- | --- |
| Student Name | Research Topic | Affiliation |
| N/A | N/A | N/A |
| | | |
| --- | --- | --- |
| Student Name | Research Topic | Affiliation |
| Nouman Shabbir  | Variation in the Realization of Sense Relations by Pakistani ESL Learners:A Survey Based Analysis. | University of Lahore  |
Course Information (Name)

Course code

Year Taught

Program (BS/MS/PhD)

University /Institute

Communication skills 

ENG1025-CS

CS-Fall-2019

BS

University of Lahore 

English composition and comprehension 

ENG1019-CS

CS-Fall-2019

BS

University of Lahore 

English-II

ENG-921

│

13

DDNS-Fall-2019

BS

University of Lahore 

English comprehension II

ENGL-815

DDNS-Fall-2019

BS

University of Lahore 

Psycholinguistics 

ELG01305

│

13

ELL-Fall-2019

BS

University of Lahore 

Technical and Business Writing 

ENG2021

│

13

CS-Spring-2020

BS

University of Lahore 

Academic reading and writing (advanced)

ENG08205

│

13

ELL-Spring-2020

BS

University of Lahore 

Semantics 

ET3433

│

13

ELL-Spring-2020

BS

University of Lahore 

Academic reading and writing (Advanced) 

ENG08205

│

13

ELL-Fall-2020

BS

University of Lahore 

Psycholinguistics 

ELG01305

│

13

ELL-Fall-2020

BS

University of Lahore 

English III

BMISE-301

│

13

BMIS-Fall-2020

BS

University of Lahore 

Academic reading and writing (Advanced) 

ENG08205

│

13

ELL-Spring-2021

BS

University of Lahore 

Psycholinguistics 

ELG01305

│

13

ELL-Spring-2021

BS

University of Lahore 

Semantics 

ELG01308

│

13

ELL-Fall-2021

BS

University of Lahore 

Psycholinguistics 

ELG01305

│

13

ELL-Fall-2021

BS

University of Lahore 

Second language acquisition 

ELG01410

│

13

ELL-Fall-2021

BS

University of Lahore 

Second language acquisition 

ELG01410

│

13

ELL-Spring 2022

BS

University of Lahore

Pragmatics 

ELG01409

│

13

ELL-Spring 2022

BS

University of Lahore