Muhammad Aqib Saeed (he/him )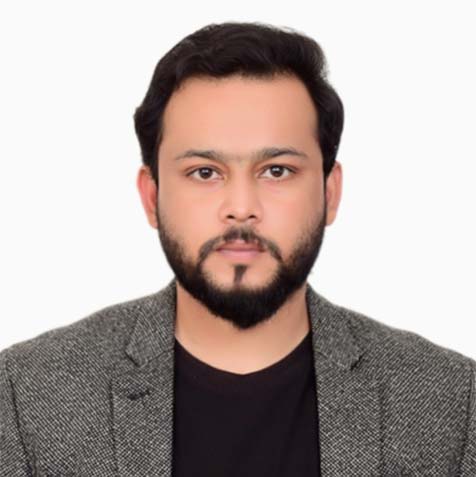 Clinical Nutrition, Dietetics, Diet Modeling, Dietetics Research,Functional and nutraceuticals ,Nutrient-drug-nutrient interactions, Diet related disorders
Fields of Research (FoR):
"Probing the role of mulberry leaf extract to alleviate metabolic risks" (Antioxidants, Phytochemicals impact on metabolic syndrome )
Clinical Nutritionist, Dietitian
Student Advising Schedule:
Thursday (02:00-04:00 MP)
Experienced PNDS registered RDN with a demonstrated history of working in different multidisciplinary hospitals. Skilled in Weight Management, Diet Planning, Health Promotion, Nutritional Counseling, and Counseling Psychology. Currently completed course work as well cleared comprehensive exam in Ph.D. ( Human Nutrition & Dietetics),Now doing Ph.D. Research work, Strong healthcare services professional with MS focused in Human Nutrition & Dietetics from Government College University, Faisalabad with possess more than 2 years clinical experience , 1-year academic experience as a department coordinator at times institute Multan (a government charter institution) and 1 1/2 year academic experience as a senior lecturer at University of Lahore (Gujrat Campus),Currently working as Lecturer in Department of Allied Health Sciences ,University of Chenab, Gujrat.
| | | | | |
| --- | --- | --- | --- | --- |
| No.  | Designation | School/Institute/University | Start Date | End Date  |
| 1 | Lecturer | University of Cheneb, Gujrat | 05-05-2022 | till |
| 2 | Senior Lecturer | University of Lahore(Gujrat Campus) | 19-10-2020 | 04-05-2022 |
| 3 | Coordinator/Lecturer | Times Institute Multan (Govt. Chartered Institute) | 20-09-2019 | 17-10- 2020 |
| 4 | Online short course trainer | Pakistan Nutri services (Nutrition Rehabilitation & consultancy Organization) | 10-06-2020  | 10-08- 2020 |
No.

Degree / Program of Study Name

Awarding Body/University/Institute

Passing Year

1

Ph.D.

Human Nutrition & Dietetics

University of Lahore

Research Scholar 

2

M.S Human Nutrition & Dietetics

Government College University Faisalabad

2018

3

Post Graduate Training Clinical Nutrition

Fatima memorial medical college Lahore

2016

4

B.Sc.(Hons) Human Nutrition & Dietetics

University Of Agriculture Faisalabad

2015

5

F.Sc.

Science (Pre-Agriculture)

University Of Agriculture Faisalabad

2011

6

Matriculation with science

Government Guru Nanak High School Nankana Sahib

2009
MY RESEARCH ACTIVITIES: JOURNALS ARTICLES / BOOK CHAPTERS / PATENTS
No. 

Title 

Details

1

Garlic Activate TRPA Receptor as a potential therapeutic target in skin related

Diseases

Systematic Review:

Pakistan Bio Medical Journal. Volume 5,Issue  7 (July 2022),DOI:

https://doi.org/10.54393/pbmj.v5i7.600

2

Bioactive Profile and Health Claims of Ginkgo Biloba

Review Article:

Pakistan Bio Medical Journal. Volume 5,Issue  5 (May 2022), 06–11. DOI:

https://doi.org/10.54393/pbmj.v5i5.460

3

Assessment of Nutritional Status Among School Going Children Through Their Dietary Intake

Research Article:

Asian Journal of Allied Health Sciences (AJAHS). 7, 1 (Apr. 2022). DOI:

https://doi.org/10.52229/ajahs.v7i1.1518

4

A Presentation on the COVID-19 Pandemic: Diet as an Adjunctive Therapy for Critical Ill Patient

Research Article:

International Journal of Public Health and Safety Volume 5:4, 2020, DOI: 10.37421/ijphs.2020.5.191

https://www.hilarispublisher.com/clinical-case-reports.html

5

Prevalence of low birth weight babies and possible determents among newborn delivered at District Head Quarter Hospital Pakpattan, Punjab 2019

Research Article

: International Journal of Current Advanced Research ISSN: O: 2319-6475, ISSN: P: 2319-6505, Available Online at

www.journalijcar.org

Volume 9; Issue 09(A); September 2020; Page No.23043- 23045, DOI:

http://dx.doi.org/10.24327/ijcar.2020

6

Possible Risk Factors Related to Malnutrition in 6-59-Month Children with Severe Acute Malnutrition in District Pakpattan, Punjab

Research Article:

Nutrition, Food, Security, Journal, Shahid SadoughiUniversity of Medical sciences,

JNFS 2021; 6(2): 154-160 Website: jnfs.ssu.ac.ir

http://dx.doi.org/10.18502/jnfs.v6i2.6069

7

Effect of Ananas Comosus L. Dried Cuts and Leave Extract on hypercholesterolemic Rats

Research Article

,

THE INTERNATIONAL JOURNAL OF BIOLOGICAL RESEARCH (TIJOBR

)

ISSN Online: 2618-1444, Vol. 2(4) Oct-Dec. 2019. 430-439; 2019

http://www.rndjournals.com

8

Ameliorating hyperglycemia by Ananas comosus leaves extract

Research Article

, THE INTERNATIONAL JOURNAL OF BIOLOGICAL RESEARCH (TIJOBR)

ISSN Online: 2618-1444, Vol. 3(2) April-June. 2020., 33-49; 2020

http://www.rndjournals.com

9

Farmers Participation in Market of the Potato Value Addition

Research article

, International Journal of Scientific & Engineering Research Volume 9, Issue 10,October-2018 809 ISSN 2229-5518,

http://www.ijser.org/
Course Information (Name/Code)

Year Taught

Program (BS/MS/PhD)

University /Institute

PRINCIPLES OF HUMAN NUTRITION/HND-301

2019

BS

Times Institute Multan (Govt. Chartered Institute)

ESSENTIALS OF BIOCHEMISTRY/BCH-307

2019

BS

Times Institute Multan (Govt. Chartered Institute)

COMMUNITY NUTRITION/HND-302

2019

BS

Times Institute Multan (Govt. Chartered Institute)

FUNDAMENTALS OF HALAL FOODS/HND-304

2019

BS

Times Institute Multan (Govt. Chartered Institute)

DIETETICS -1/HND-401

2019

BS

Times Institute Multan (Govt. Chartered Institute)

DIETETICS -2/HND-402

2020

BS

Times Institute Multan (Govt. Chartered Institute)

LIFE CYCLE NUTRITION/HND-404

2020

BS

Times Institute Multan (Govt. Chartered Institute)

NUTRIENTS DRUG INTERACTION/HND-501

2020

BS

Times Institute Multan (Govt. Chartered Institute)

FUNCTIONAL FOODS AND NUTRACEUTICALS/HND-503

2020

BS

Times Institute Multan (Govt. Chartered Institute)

BIOCHEMISTRY OF DISEASES/BCH-602

2020

BS

Times Institute Multan (Govt. Chartered Institute)

CLINICAL AND THERAPEUTIC NUTRITION/HND-502

2020

BS

Times Institute Multan (Govt. Chartered Institute)

CONTROVERSIES IN FIELD OF NUTRITION/CFN-874

2020

BS

UOL (GUJRAT CAMPUS)

NUTRITIONAL REPORT WRITING /NRW-877

2020-21-22

BS

UOL (GUJRAT CAMPUS)

PRACTICAL NUTRITIONAL PRACTICES IN CLINICAL CARE /  PNPCC-879

2020-21

BS

UOL (GUJRAT CAMPUS)

HOSPITAL BASED NUTRITIONAL PRACTICE /HBNP-882

2021-22

BS

UOL (GUJRAT CAMPUS)

DRUG-NUTRIENT INTERACTION /DNI

2021

BS

UOL (GUJRAT CAMPUS)

Log Book/

LB-883

2021

BS

UOL (GUJRAT CAMPUS)

MEAL PLANNING AND MANGEMENT /

MPM-955

2022

BS

UOL (GUJRAT CAMPUS)

DIETETICS -2/DIET-951

2022

BS

UOL (GUJRAT CAMPUS)