Saddam Hussain Sabri (he/him )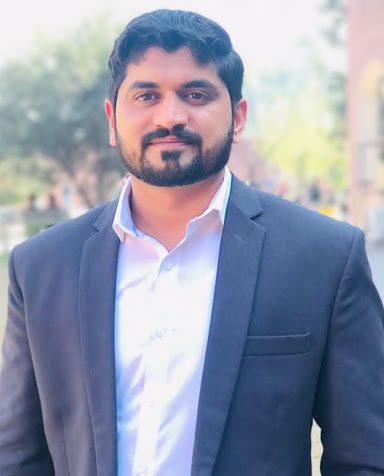 Manual Therapy ,Neuromuscular Physiotherapy
Fields of Research (FoR):
Neuromuscular Physiotherapy
Neural Tissue Mobilization,
Student Advising Schedule:
Dr Saddam Hussain Sabri, graduated from University of Sargodha in 2017. He started his career as a physical therapist from Rising Sun Institute for special Children Lahore from 1st Aug 2018- Feb 2019. In hunger to learn and excel his career in 2018 he took admission in Neuro Physical Therapy in University of Lahore to pursue his higher studies. He is working as a lecture In University of Lahore Gujarat Campus since 1st March 2019. He has taught various subjects during his academic career and has special expertise in Manual therapy & Neuro physiotherapy.
| | | |
| --- | --- | --- |
| No.  | Designation | School/Institute/University |
| 1 | Lecturer  | University Of Lahore Gujrat Campus |
| | | |
| --- | --- | --- |
| No.  | Degree / Program of Study Name | Awarding Body/University/Institute |
| 1 | MS,NMPT* | University of  Lahore Main Campus |
| 2 | DPT | University Of Sargodha  |
MY RESEARCH ACTIVITIES: JOURNALS ARTICLES / BOOK CHAPTERS / PATENTS
No. 
Title 
Details

1

Comparison Of Mulligan SNAGS and neural tissue mobilization in patients with lumber radiculopathy ,A randomized controlled trial

Published in "Clinical Practice '' A UK journal in 2021

2

Frequency of occupation related MSD In daycare workers

Published In IAJPS in 2020
| | | |
| --- | --- | --- |
| Student Name | Research Topic | Affiliation |
| Maryam Zubair  | Topic selection under process  | University Of Lahore chenab campus  |
Student Name

Research Topic

Affiliation

Amina Ahsan 

Quality Of Life in patient with Thalassemia  in Gujranwala 

University Of Lahore chenab campus 

Habiba Ilyas 

Relationship among smart phone addiction ,physcial activity & family relationship In physiotherapy students of Gujrat 

University Of Lahore chenab campus 

Iqra Ijaz 

Relationship between BMI & Premenstural syndrome in young females 

University Of Lahore chenab campus 

Saman Shabbir 

Prevalence of Text Neck Syndrome In smart Phone users in university under graduate students  

University Of Lahore chenab campus 

Ariba Amanullah

To evaluate the knowledge, attitude, practice and concerns related to COVID-19

vaccination among the females of Gujranwala.

University Of Lahore chenab campus 
Course Information (Name/Code)

Year Taught

Program (BS/MS/PhD)

University /Institute

Emergency procedure & primary care 

EPPCPT 882

Spring 2019

BS

University Of Lahore 

Radiology & Diagnostic Imaging 

RDI 863

Spring 2019

BS

University Of Lahore 

Surgery 1

SURI 862

Spring 2019

BS

University Of Lahore 

Teaching methodology & Community Medicine

TMCM 855

Spring 2019

BS

University Of Lahore 

Therapeutic Exercise & Technique 

TET 844

Fall 2020 

BS

University Of Lahore 

Surgery 1

SURI 862

Fall 2020 

BS

University Of Lahore 

Neurological Physiotherapy

NPT873 

Spring 2020

BS

University Of Lahore 

Surgery 1

SURI 862

Spring 2020

BS

University Of Lahore 

Medicine 1

MEDI 861

Spring 2020

BS

University Of Lahore 

Therapeutic Exercise & Technique 

TET 844

Spring 2020

BS

University Of Lahore 

Molecular biology & Genetics 

MBG 01201

Spring 2021

BS

University Of Lahore 

Therapeutic Exercise & Technique 

TET 844

Spring 2021

BS

University Of Lahore 

Surgery 1

SURI 862

Spring 2021

BS

University Of Lahore 

Cardiopulmonary Physical Therapy 

CPPT 881

Spring 2021

BS

University Of Lahore 

Physiology III

Summer 2021

BS

University Of Lahore 

Cardiopulmonary Physical Therapy 

CPPT 881

Fall 2021

BS

University Of Lahore 

Therapeutic Exercise & Technique 

TET 844

Fall 2021

BS

University Of Lahore