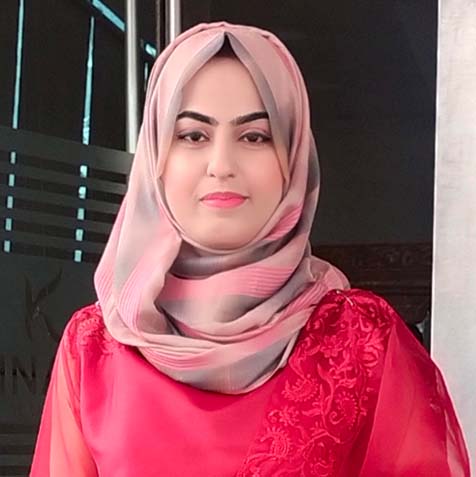 Quantum Mechanics, Atomic Physics, Electrodynamics, Laser Physics
Fields of Research (FoR):
Laser Spectroscopy, Laser 3D Imaging
Student Advising Schedule:
Monday & Wednesday (12.00pm-3.00pm)
I am Ayesha Abbas currently teaching as Lecturer in the University of Chenab, Gujrat. I completed my Master of Philosophy in physics from University of Agriculture, Faisalabad, Pakistan. My research interests are Laser spectroscopy, optics, Nanotechnology. Currently I am working on Laser Matter Interaction. During my higher education I participated in many International and national conferences and seminars.
No. 

Designation

School/Institute/University

1

Lecturer 

2017-1018

Divisional Public school and College, Faisalabad

2

Lecturer

2018

Govt. Degree College for Women Ghulam Muahmmad Abad, Faisalabad

3

Lecturer

2018

Fatima Jinnah Girls College Kotla Arab Ali Khan, Gujrat

4

Lecturer

2019-2022

University Of Lahore, Gujrat Campus
No. 

Degree / Program of Study Name

Awarding Body/University/Institute

1

Doctor of Philosophy ( PhD) in Optical Engineering

(continue)

Beijing Institute of Technology, Beijing, China

2

Master of Philosophy in Physics (M.PHIL)

2016-2018

University of Agriculture, Faisalabad

3

Master of Science in Physics (MSC)

2014-2016

University of Agriculture, Faisalabad

4

Bachelor of Science

2012-2014

Govt. College University, Faisalabad
| | | |
| --- | --- | --- |
| Student Name | Research Topic | Affiliation |
| N/A | N/A | N/A |
| | | |
| --- | --- | --- |
| Student Name | Research Topic | Affiliation |
| N/A | N/A | N/A |
| | | | |
| --- | --- | --- | --- |
| Course Information (Name/Code) | Year Taught | Program (BS/MS/PhD) | University /Institute |
| Quantum Mechanics  | 2019 | MS | UOL, Gujrat Campus |
| Quantum Mechanics-I | 2019-2022 | BS | UOL, Gujrat Campus |
| Atomic and Molecular Physics | 2019-2022 | BS | UOL, Gujrat Campus |
| Methods of Experimental Physics | 2020-2021 | BS | UOL, Gujrat Campus |
| Electromagnetic Theory-I | 2021-2022 | BS | UOL, Gujrat Campus |
| Quantum Mechanics-II | 2019-2021 | BS | UOL, Gujrat Campus |
| Modern Physics | 2019-2020 | BS | UOL, Gujrat Campus |
| Waves and Oscillations | 2019 | BS | UOL, Gujrat Campus |
| Digital Electronics | 2019-2020 | BS | UOL, Gujrat Campus |