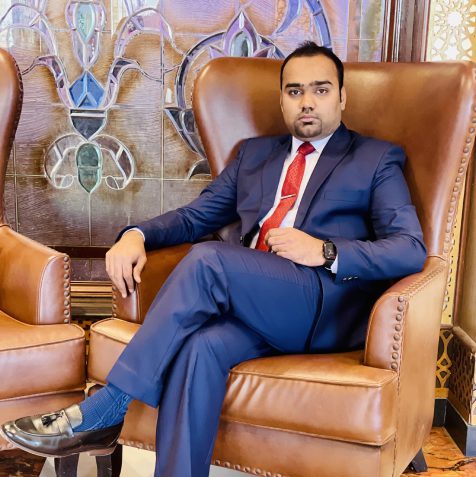 Machine Learning, Deep Learning, Artificial Intelligence, Digital Image Processing, Mobile Application Development, Programming, Data Analytics, Text Mining, Natural Language Processing and Web Development.
Fields of Research (FoR):
Medical Image processing using deep learning/machine learning.
Medical image processing, deep learning,
Mr. Raheel Baig is working as a Lecturer in the Department of Computer Science, University of Chenab, Gujrat. He is pursuing Ph.D in Artificial Intelligence, and has obtained his Master's degree in computer science in 2021 from University of Gujrat, Gujrat, Pakistan. His field of specialisation is Artificial Intelligence, Web Development, iOS & MacOS and Development in Programming. The research interests include Medical Image Processing using Deep Learning/Machine learning. He also has worked as a Junior Lecturer for the last 2 years (Nov, 2019-2022) at University of Lahore, Gujrat Campus.
| | | | |
| --- | --- | --- | --- |
| No.  | Designation | School/Institute/University | Duration |
| 1  | Lecturer | The University of Chenab, Gujrat, Islamic Republic of Pakistan | May 2022 – Present |
| 2 | Lecturer | The University of Lahore, Gujrat Campus, Pakistan | Jan 2022 – April 2022 |
| 3 | J. Lecturer | University of Lahore, Gujrat Campus | Nov 2019 – Dec 2021 |
| 4 | Lecturer | Govt. Degree College for Boys, Kharian | 1 month |
| 5 | Assistant Lecturer | University of Gujrat | 6 month |
| | | | |
| --- | --- | --- | --- |
| No.  | Degree / Program of Study Name | Awarding Body/University/Institute | Completion Year |
| 1 | MS Computer Science | University of Gujrat | 2021 |
| 2 | MSc. Computer Science | University of Gujrat | 2017 |
| 3 | BSc | University of Gujrat | 2015 |
| 4 | HSSC | Gujranwala Board | 2012 |
| 5 | SSC | Gujranwala Board | 2010 |
MY RESEARCH ACTIVITIES: JOURNALS ARTICLES / BOOK CHAPTERS / PATENTS
No. 

Title 

Details

1

Detecting Malignant Leukemia Cells Using Microscopic Blood Smear Images: A Deep Learning Approach

Baig, R., Rehman, A., Almuhaimeed, A., Alzahrani, A., & Rauf, H. T. (2022). Detecting Malignant Leukemia Cells Using Microscopic Blood Smear Images: A Deep Learning Approach. Applied Sciences, 12(13), 6317. https://doi.org/10.3390/app12136317

(HEC Category: W)
| | | | |
| --- | --- | --- | --- |
| Course Information (Name/Code) | Year Taught | Program (BS/MS/PhD) | University /Institute |
| Object Oriented Programming | 2019 | BS | University of Gujrat |
| Data Structures | 2019 | BS | University of Gujrat |
| Data Communication & Networks | 2019 | BS | University of Gujrat |
| Data Structures and Algorithms Lab | 2019 | BS | University of Lahore, Gujrat Campus |
| Digital Logic and Design Lab | 2019 | BS | University of Lahore, Gujrat Campus |
| Introduction to Computing Fundamentals | 2019 | BS | University of Lahore, Gujrat Campus |
| Introduction to Computing Fundamentals Lab | 2019 | BS | University of Lahore, Gujrat Campus |
| Business Computing | 2019 | BS | University of Lahore, Gujrat Campus |
| Computer Application in Business | 2019 | BS | University of Lahore, Gujrat Campus |
| Computer Education and Nutritional Data Lab | 2020 | BS | University of Lahore, Gujrat Campus |
| Database Systems Lab | 2020 | BS | University of Lahore, Gujrat Campus |
| Object Oriented Software Engineering Lab | 2020 | BS | University of Lahore, Gujrat Campus |
| Information for Management Control | 2020 | BS | University of Lahore, Gujrat Campus |
| Management Information Systems | 2020 | BS | University of Lahore, Gujrat Campus |
| Programming Fundamentals Lab | 2020 | BS | University of Lahore, Gujrat Campus |
| Object Oriented Programming | 2020 | BS | University of Lahore, Gujrat Campus |
| Object Oriented Programming Lab | 2020 | BS | University of Lahore, Gujrat Campus |
| Computer Organization and Assembly Lab | 2020 | BS | University of Lahore, Gujrat Campus |
| Advanced Computer Programming | 2020 | BS | University of Lahore, Gujrat Campus |
| Data Structures and Algorithms Lab | 2021 | BS | University of Lahore, Gujrat Campus |
| Communication and Computer Networks Lab | 2021 | BS | University of Lahore, Gujrat Campus |
| Object Oriented Software Engineering Lab | 2021 | BS | University of Lahore, Gujrat Campus |
| Object Oriented Programming | 2021 | BS | University of Lahore, Gujrat Campus |
| Object Oriented Programming Lab | 2021 | BS | University of Lahore, Gujrat Campus |
| Database Systems Lab | 2021 | BS | University of Lahore, Gujrat Campus |
| Computer Education and Nutritional Data  | 2021 | BS | University of Lahore, Gujrat Campus |
| Computer Education and Nutritional Data Lab | 2021 | BS | University of Lahore, Gujrat Campus |
| Web Engineering | 2022 | BS | University of Lahore, Gujrat Campus |
| Data Structures and Algorithms Lab | 2022 | BS | University of Lahore, Gujrat Campus |