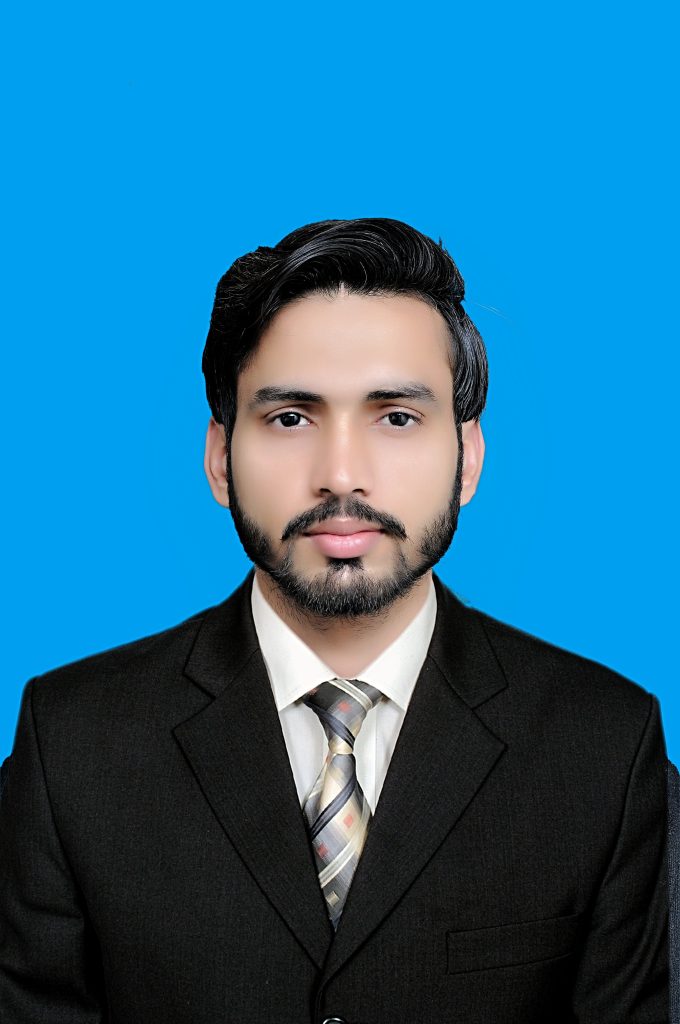 Microbiology, Hematology, Transfusion Medicine
Fields of Research (FoR):
Student Advising Schedule:
Monday : 08am- 12pm Friday: 08am-12pm
Mr. Umair Waqas is working as a lecturer in the University institute of Medical lab technology (UIMLT) at The University of Lahore, Gujarat Campus, since 2020. He has done his Masters Degree in Microbiology and bachelors Degree in Medical lab technology from the Government college university Faisalabad. He believes every child is unique and deserves a caring, inspiring, and engaging atmosphere in which to grow emotionally, intellectually, and socially. As an educator He wants to help students meet their fullest potential in these areas by providing a safe, risk-taking, and collaborative environment. He wants our students to develop positive character and leadership traits which are essential in becoming a productive citizen. He believes a positive elementary education is essential to creating successful life-long learners. Outside the university, he enjoy reading, going to the movies, traveling to hill stations, shopping and spending time with his family and friends.
| | | |
| --- | --- | --- |
| No.  | Designation | School/Institute/University |
| 1 | Lecturer | The University of Lahore, Gujrat campus  |
| 2 | Research Assistant  | Government college university Faislabad |
| 3 | Lab Technologist  | Mujahid Hospital Faisalabad |
| | | |
| --- | --- | --- |
| No.  | Degree / Program of Study Name | Awarding Body/University/Institute |
| 1 | M.Phil (Microbiology ) 2018-2020 | Department of Microbiology, Faculty of Life Science, Government College University Faisalabad (GCUF), Faisalabad, Punjab, Pakistan |
| 2 | B.S. (Medical Laboratory Technology) 2013-17 | College of Allied Health Professionals, Directorate of Medical Sciences, Faculty of Life Science, Government College University Faisalabad (GCUF), Faisalabad, Punjab, Pakistan |
| 3 | F. Sc. Pre medical  2011-2013 | BISE GRW |
| 4 | Matriculation      2009-2011 | BISE GRW |
MY RESEARCH ACTIVITIES: JOURNALS ARTICLES / BOOK CHAPTERS / PATENTS
No. 

Title 

Details

1

Emergence of armA Mediated Aminoglycoside Resistance in Multidrug-Resistant Acinetobacter baumannii in Pakistani Hospitals

Pakistan Journal of Zoology, 

2

"The Prevalence of Multidrug Resistant Tuberculosis (MDR-TB) in Different Age Groups Keeping Gene-Xpert MTB/RIF as A Gold Standard Technique"

EAS Journal of Parasitology and Infectious Diseases VOL 03, No. 06, (2021)

3

" Antimicrobial Resistance Mechanisms in Acinetobacter baumannii in Recent Decade"

Saudi Journal of Pathology and Microbiology VOL 6(5): 179-186 (2021)

4

" IN-VITRO ASSESSMENT OF THE THERAPEUTIC POTENTIAL OF POLYMYXINS AND TIGECYCLINE AGAINST MULTIDRUG-RESISTANT ACINETOBACTER ISOLATES FROM INFECTED WOUNDS ''

J Ayub Med Coll Abbottabad 

2020;32(4)

5

"The accuracy of 4D Ultrasonography in Determining Fetal Behavior''

Journal of Health Medicine and Nursing VOL 80, (2020), 09

6

''In Vivo Analysis of Therapeutic Effects of Hydroxychloroquine, Azithromycin, Paracetamol, Dexamethasone, Remdesivir and Tocilizumab in Patients Affected with Novel Covid-19''

Journal of Health Medicine and Nursing VOL 81, (2020), 07

7

"The Evaluation of Frequency of Intracranial Haemorrhage in Patients of Head Trauma with GCS 10-15 on Computed Tomography Scan"

East African Scholars Journal of Medicine and Surgery VOL 02, (2020), 11

8

"Evaluation Of Liver Leisons On Biphasic Computed Tomography (Ct) Scan- An Observational Study"

International Journal of Innovation Scientific Research and Review VOL, 02 (2020) 12
| | | |
| --- | --- | --- |
| Student Name | Research Topic | Affiliation |
| Sohan Haider | Effect of Covid-19 on cardiac patients | The university of Lahore, Gujarat campus |
| Nimra Shaheen  | Effect of Covid-19 on blood profiling of diabetic patients | The university of Lahore, Gujarat campus |
| | | | | |
| --- | --- | --- | --- | --- |
| Course Information (Name/Code) | Course Code | Year Taught  | Program (BS/MS/PhD) | University /Institute |
| Applied Pathology | BMSIP-504 | 2020 | MID  | UIMLT |
| Applied Physiology | BMSIP-303 | 2020 | MID | UIMLT |
| Behavioral Sciences  | MLTBS-1005 | 2020 | DMLS | UIMLT |
| Basic Anatomy | BMSIBA-104 | 2020 | MID | UIMLT |
| Medical lab instrumentation  | MLTMI-901 | 2020 | BMLS | UIMLT |
| Advances in molecular Biology and Bio-informatics   | MLTMB-1301 | 2020 | DMLS | UIMLT |
| Special Pathology  | MLTSP-904 | 2021 | BMLS | UIMLT |
| Behavioral Sciences | MLTBS-1005 | 2021 | BMLS | UIMLT |
| Advances in hematology  | MLTAH-1001 | 2021 | BMLS | UIMLT |
| Advances in Clinical Microbiology  | MLTE-1402 | 2021 | DMLS | UIMLT |
| Advances in molecular Biology and Bio-informatics   | MLTMB-1301 | 2021 | DMLS | UIMLT |
| Transfusion Medicine  | MLTTM-1104 | 2021 | BMLS | UIMLT |
| Clinical Lab Rotation Hematology and Blood Banking  | MLTLR-1601 | 2021 | DMLS | UIMLT |