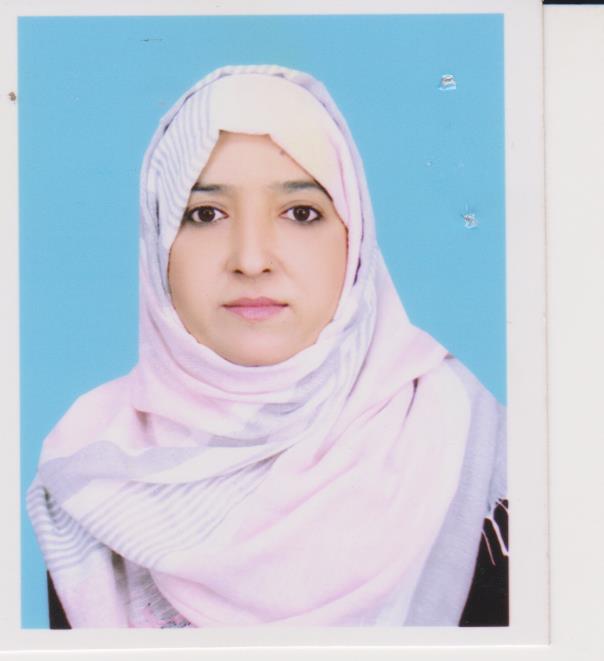 Fields of Research (FoR):
Comparative study of religions
Student Advising Schedule:
Najma Iqbal is working as a Lecturer of Islamic Studies in the University of Chenab, Gujrat. She did her MPhil degree in Islamic Studies from Department of Islamic Studies, Minhaj ul Quran International University Lahore 2014. She is quite active. She actively plans Extracurricular activities(attending Conferences & Seminars) to help students to pursue interest outside standardized education.
| | | |
| --- | --- | --- |
| No.  | Designation | School/Institute/University |
| 1. | Lecturer | University of Lahore Gujrat Campus 2015-till date |
| 2. | Lecturer | Islamia Degree College Gujrat 2012-2014 |
| 3. | Lecturer | Jinnah Girls College Gujrat 2010-2012 |
| 4. | Teacher | Jinnah International Public School Gujrat 2003-2007 |
| 5. | Teacher | Gulstan –e- Saadi High School Gujrat 2002-2003 |
| 6. | Teacher | Ibrar Cadit School Gujrat 2001-2002 |
|   |   |   |
| | | |
| --- | --- | --- |
| No.  | Degree / Program of Study Name | Awarding Body/University/Institute |
|   | MPhil Islamic Studies | Minhaj ul Quran International University Lahore |
|   | B.Ed. | Allama Iqbal Open University Islamabad |
|   | Master in Islamic Studies | University of Gujrat |
|   | HSSC | Fatima Jinnah college Fawara Chock Gujrat |
|   | CT | Allama Iqbal Open University Islamabad |
|   | SSC | Miss Fatima Jinnah Model Girls High School Gujrat |
|   |   |   |
MY RESEARCH ACTIVITIES: JOURNALS ARTICLES / BOOK CHAPTERS / PATENTS
| | | |
| --- | --- | --- |
| Student Name | Research Topic | Affiliation |
| | | |
| --- | --- | --- |
| Student Name | Research Topic | Affiliation |
|   |   |   |
| | | | |
| --- | --- | --- | --- |
| Course Information (Name/Code) | Year Taught | Program (BS/MS/PhD) | University /Institute |
| Islamic Studies/965 | 2022 | BS | UOL Gujrat campus |
| Islamic Studies & Ethics/815 | 2022 | BS | UOL Gujrat campus |
| Islamic Studies & Ethics/815 | 2021 | BS | UOL Gujrat campus |
| Islamic Studies/816 | 2021 | BS | UOL Gujrat campus |
| Islamic Studies/965 | 2021 | BS | UOL Gujrat campus |
| Islamic Studies & Ethics/ IS-402-B | 2020 | BS | UOL Gujrat campus |
| Islamic Studies & Ethics/ IS-922 | 2020 | BS | UOL Gujrat campus |
| Islamic Studies & Ethics/ ISLS-816 | 2020 | BS | UOL Gujrat campus |