Software Engineering (BS)
Duration
4 years full-time
Qualification
Bachelor of Sciences in Software Engineering
Academic Session
Spring & Fall
Program Overview
Program Mission
Program Education Objectives (PEOs)
Program Learning Outcomes (PLOs)
Mapping of PLOs to PEOs
Mapping of CLOs to PLOs
Courses Distribution
Specialization Areas
Teaching
Assessment Tools
Duration
Entry Requirement
Careers
Tuition Fee
Departments
Life at Chenab
Next Steps
2023 Entry
Program Overview
The Bachelor of Science in Software Engineering is a full-time, four-year degree program offered at the University of Chenab. This course is designed specifically to provide an inclusive framework in all aspects of modern life driven by a variety of software systems. BS-SE aims to develop expertise in designing and applying economically better software for the betterment of mankind.
Studying Software Engineering at the University of Chenab will expose you to a certain set of knowledge and skills used in software creation by consigning you to the interdisciplinary crossroads of computer science and engineering. This course ensures that the students have acquired an ability to design, develop, operate, and maintain software systems.
The program learning outcomes will give you broad-field knowledge of effective engineering, problem analysis, specification, testing, and evolution of software products. While progressing through the degree, you will learn the modern ways to interact with the world employing coding, programming, technology, and innovative systems. You will also have the capability to understand modern software development tools, languages, and problem-solving techniques.
The advances in Software Engineering careers are proceeding at a record pace globally as well as locally. The application of software systems plays an integral role in daily prospects of life. From manufacturing, communications, finance, banking, education, government, and everything in between, the career possibilities for software engineers are limitless.
Our program structure offers a flexible range of courses in all areas of software engineering, building a solid foundation in software development, research, and project management. The course structure offers a flexible mixture of core/compulsory and optional modules. Though students may get an option to add an additional year in research exchange program which enhances their knowledge and help them in future.
Program Mission
The mission of Bachelor of Software Engineering program is to prepare technically strong Software Engineers who can contribute effectively towards the nation, society and the world at large through effective problem solving skills, application of engineering knowledge, leadership and healthy lifelong learning attitude.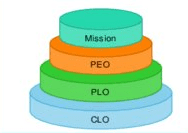 Program Education Objectives (PEOs)
PEO-1: Graduate should engage in successful professional practice in their chosen discipline and demonstrate professional advancement through significant technical achievements.
PEO-2: Graduates should demonstrate professional attitudes, ethics, and ability to work effectively as a team member and/or leader in an ever-changing professional environment.
PEO-3: Graduates should pursue advanced degrees in computing, sciences, engineering, business, or other professionally related fields, and will engage in life-long learning and professional development.
Program Learning Outcomes (PLOs)
PLO-1 Engineering Knowledge:
An ability to apply knowledge of mathematics, science, engineering fundamentals and an engineering specialization to the solution of complex engineering problems.
PLO-2 Problem Analysis:
An ability to identify, formulate, research literature, and analyze complex engineering problems reaching substantiated conclusions using first principles of mathematics, natural sciences and engineering sciences.
PLO-3 Design/Development of Solutions:
An ability to design solutions for complex engineering problems and design systems, components or processes that meet specified needs with appropriate consideration for public health and safety, cultural, societal, and environmental considerations.
PLO-4 Investigation:
An ability to investigate complex engineering problems in a methodical way including literature survey, design and conduct of experiments, analysis and interpretation of experimental data, and synthesis of information to derive valid conclusions.
PLO-5 Modern Tool Usage:
An ability to create, select and apply appropriate techniques, resources, and modern engineering and IT tools, including prediction and modeling, to complex engineering activities, with an understanding of the limitations.
PLO-6 The Engineer and Society:
An ability to apply reasoning informed by contextual knowledge to assess societal, health, safety, legal and cultural issues and the consequent responsibilities relevant to professional engineering practice and solution to complex engineering problems.
PLO-7 Environment and Sustainability:
An ability to understand the impact of professional engineering solutions in societal and environmental contexts and demonstrate knowledge of and need for sustainable development.
PLO-8 Ethics:
Apply ethical principles and commit to professional ethics and responsibilities and norms of engineering practice.
PLO-9 Individual and Team Work:
An ability to work effectively, as an individual or in a team, on multifaceted and /or multidisciplinary settings.
PLO-10 Communication:
An ability to communicate effectively, orally as well as in writing, on complex engineering activities with the engineering community and with society at large, such as being able to comprehend and write effective reports and design documentation, make effective presentations, and give and receive clear instructions.
PLO-11 Project Management:
An ability to demonstrate management skills and apply engineering principles to one's own work, as a member and/or leader in a team, to manage projects in a multidisciplinary environment.
PLO-12 Lifelong Learning:
An ability to recognize importance of, and pursue lifelong learning in the broader context of innovation and technological developments.
Mapping of PLOs to PEOs
| PLOs | Program Learning Outcomes | PEO-1 | PEO-2 | PEO-3 |
| --- | --- | --- | --- | --- |
| 1 | Engineering Knowledge | | | |
| 2 | Problem Analysis | | | |
| 3 | Design/Development of Solutions | | | |
| 4 | Investigation | | | |
| 5 | Modern Tool Usage | | | |
| 6 | The Engineer and Society | | | |
| 7 | Environment and Sustainability | | | |
| 8 | Ethics | | | |
| 9 | Individual and Team Work | | | |
| 10 | Communication | | | |
| 11 | Project Management | | | |
| 12 | Lifelong Learning | | | |
Mapping of CLOs to PLOs
Following CLOs to PLOs mapping is for the course of software engineering. For all other courses CLOs to PLOs mapping exist in detailed curriculum.
Course Learning Outcomes (CLO): Upon successful completion of the course, the students will be able to
Mapping to PLOs
CLO1
Describe various software engineering processes and activities
PLO-2
CLO2
Apply the system modeling techniques to model a medium size software system
PLO-4
CLO3
Apply software quality assurance and testing principles to medium size software system
PLO-4
CLO4
Discuss key principles and common methods for software project management such as scheduling, size estimation, cost estimation and risk analysis
PLO-3
Courses Distribution
Our undergraduate degree in software engineering provides a broader understanding of software systems allowing you to have a high-level interaction across a variety of mechanical, electronic, and software domains.
Specialization Areas
This program has vast canvas of following specialization areas.
Data Science
Machine Learning
Artificial Intelligence
Cyber Security
Computer Networking
Mobile Application Development
Web Application Development
Teaching
In BS Software engineering we use various methods of teachings through classroom activities including a combination of lectures, tutorials, lab sessions, seminars, workshops, online learning, and independent study. In addition to these workshops, online learning and seminars are also considered. Mode of communication is English.This program structure is comprised of a total number of thirty to thirty-two lectures and about 3 hours per week will be allocated for teaching and sixteen labs. Each lab consists of three hours of lab practice per week. 
 You will be guided all about the studies, mainly about time for preparing classes, completion of research projects, and reading of primary texts. This program is taught in an appropriately positive learning environment for quality composing work to take place.
Our Computer Science (BS-SE) degree is undertaken in a better, more open, and more connected environment to keep more students engaged in a classroom.
Assessment Tools
Mainly evaluation will be concluded by extensive monitoring of written examination and course work completion along with routine quizzes, individual assignments, and group tasks i.e. programming such as writing, research and presentation.
Duration
The duration to complete BS degree program is about 4 years. But HEC has allowed a maximum 6 year duration to complete their degrees.
Entry Requirement
Before applying for a degree, you should first check that we recognize your higher secondary/tertiary education qualification. This can include:
Pakistani Based Examinations: Higher Secondary School Certificate (HSSC) or equivalent with Mathematics or three years Diploma of Associate Engineer (DAE) in any discipline 
British System: GCE A Level with any of following subjects Further Mathematics/Pure Mathematics/Mathematics. 
International Baccalaureate (IB): The International Baccalaureate Diploma Program (DP) from external Examining body Geneva, Switzerland with five subjects (including Mathematics)
You still can be admitted if you have passed additional deficiency courses prescribed by the relevant faculty.
Candidates without mathematics can be admitted provided that they must have to pass deficiency courses of Mathematics of 6 credit hours in first two semesters.
Equivalence Certificate for A-Level/IB and other qualification holders from Inter Board Committee of Chairman (IBCC) Islamabad, Pakistan.
Admission test administered by the university.
50% marks are required in all cases described above.
Careers
BS Data Science graduates have an opportunity to work as:
Finance and Investment Analysis
Actuaries, Economists, and statisticians
Data Scientists and Engineers
Telecommunication Designer
Software Developers
Academics
Helping you find the right career
We have the facilities of devoted career counselors who help you to select your career choices and assist you in preparing for various recruitment programs. You can also be a part of career fest programs which are an interactive session with the recruiters so, you can understand their requirements and recruitment criteria.
Tuition Fee
Tuition Fee
Mainly tuition fees majorly covers our study cost, which includes assessment and teaching. Advanced fees are taken before the academic semester. If the university takes fees directly then you can choose the installment methods to pay your fees.
Additional course costs
You may be charged an extra cost of additional things such as books, stationery, recreational and study trips, and other materials.
| | | | | | | | | |
| --- | --- | --- | --- | --- | --- | --- | --- | --- |
| Courses | CrdHrs | Tuition Fee/CrdHr | Tuition Fee/Semester | Enrollment Fee (500 per Course) | Examination Fee (500 per Course) | Medical Diagnostic Charges (500 per Semester | Societies & Club Fee(2500 per Semester) | Total Fee For Semester |
| 7 | 16 | 6,030 | 96,480 | 3,500 | 3,500 | 500 | 2,500 | 106,480 |
| 9 | 17 | 6,030 | 102,510 | 4,500 | 4,500 | 500 | 2,500 | 114,510 |
| 9 | 19 | 6,330 | 120,270 | 4,500 | 4,500 | 500 | 2,500 | 132,270 |
| 10 | 18 | 6,330 | 113,940 | 5,000 | 5,000 | 500 | 2,500 | 126,940 |
| 11 | 17 | 6,630 | 112,710 | 5,500 | 5,500 | 500 | 2,500 | 126,710 |
| 12 | 18 | 6,630 | 119,340 | 6,000 | 6,000 | 500 | 2,500 | 134,340 |
| 6 | 15 | 6,930 | 103,950 | 3,000 | 3,000 | 500 | 2,500 | 112,950 |
| 4 | 10 | 6,930 | 69,300 | 2,000 | 2,000 | 500 | 2,500 | 76,300 |
| 68 | 130 |   | 838,500 | |   |   |   | 930,500 |
|   |   |   |   | Registration Fee (payable once – Non Refundable) |   |   |   | 20,000 |
|   |   |   |   | Total Fee |   |   |   | 950,500 |
Final Year Project internal and external evaluation fee is Rs. 10000 which will be charged once at the time of evaluation.
Funding
We offer several fully and partially funded undergraduate scholarships to full-time undergraduate students. Visit Funding Policy for further queries.
Departments
Life at Chenab
Peaceful ambience, agile teaching as well as non-teaching staff, and a disciplined yet enjoyable and motivating atmosphere. Welcome to the University of Chenab. We produce professionals who are adept in their disciplines. Our institution is not only concerned with grades and education, but also take care of mental well-being of our students.
The University of Chenab represents excellence in teaching, research, scholarship, creativity and engagement. Its mission is to produce professionals outfitted with the highest standards in creativity, transfer and application of knowledge dissemination to address issues of our time.
The UChenab sculpts its graduates to become future leaders in their fields to inspire the next generation and to advance ideas that benefit the world.
The University of Chenab, Gujrat aspires to become a nationally and internationally recognized university that distinguishes itself as an embedding center for outstanding ethical and moral values, teaching quality, learning outcomes, and richness of the student experience.
The University of Chenab, Gujrat envisions a transformative impact on society through its continual innovation in education, creativity, research, and entrepreneurship.
Next Steps
Visit (Website link admission tab) and search your respective course and department on this website.
Check the admission criteria and learn about the eligibility criteria of your selected course.
If you are confused about the fee structure visit our fee guide at (link)
To search more about the campus and studies visit other events and tabs to learn about the latest news and events.
Still if there are any ambiguities then contact our admission office.
Search the page and select your course scroll to the menu and click on and option 'Apply.'
Fill the online application form with the required attachments.
After the form is submitted then you'll receive a confirmation email. Confirm your application which is then processed forward.
After the acceptance of the online registration a date and time is allocated for an in-campus test.
You must bring your original attested documents on your test day.
After sometimes the results are out so constantly check your email for the notification.
Visit the campus for enrolment.
After the enrolment attend your orientation day as it is an interactive session among students and the faculty.
Then, receive your timetable.
Finally, start a new step of your carrier.
2023 Entry