Bachelor of Science in Nursing
Duration
4 Years full-time
Qualification
Bachelor of Science in Nursing
Program Overview
Modules
Teaching
Assessment
Duration
Entry Requirement
Careers
Tuition Fee
Departments
Life at Chenab
Next Steps
2023 Entry
Program Overview
Department of Allied Health Sciences, first in the region to offers Bachelor of Nursing to students who are interested in health & medical care. Our four-year BScN program blends dense academic preparation, innovative teaching methods and hands-on training with clinical experiences to enable you to provide holistic care for individuals. On the successful completion of the BSN completion, the graduates get an opportunity to enter the nursing profession.  
Modules
The BS Nursing curriculum is aimed to polish the students so that they can pursue nursing as a professional career. The students have to study various subjects that refer to the roles of the nurse. The conceptual basis for nursing practice is presented as it is the basic need in the health care departments. The compulsory subjects include English, Pakistan Studies, Islamic Studies / Ethics, Mathematics and Introduction to Computer. There are different elective subjects and some of them are Microbiology, Anatomy& Physiology, Biochemistry, Ethics, Pathophysiology, Nutrition and Psychology.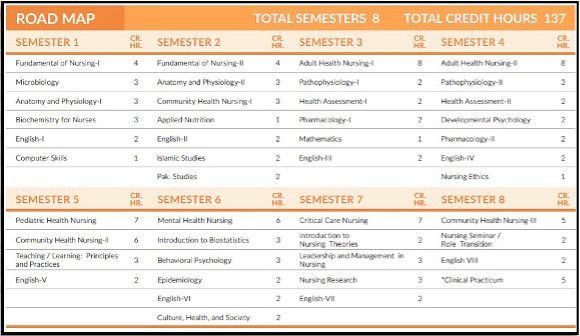 Teaching
In teaching, objective oriented and practical based methodology is adopted. Highly qualified teachers are motivated to deliver research-based knowledge. State of the art lecture rooms and labs are equipped with modern tools of learning. Lectures are delivered with special focus on clinical perspectives. Different teaching methodologies including assignments, presentations, quizzes, seminars, group discussions and activities (lab-based work, hospital rotations, public health and community services) are followed. This program consists of 137 credit hours with 44 core courses and one elective course. After completion of Four-Years BS Nursing students will be able to:
Applying the nursing process to provide safe, competent, and holistic nursing care to patients/clients in variety of settings.
Utilizing effective critical thinking and problem-solving in their professional practice.
Using scholarly skills and the use of scientific methods in critiquing and applying existing nursing theories and research findings in selected practice settings.
Utilizing effective oral and written communication in interpersonal and professional interactions with peers, clients, families, and other professionals.
Developing leadership skills to promote the development of the profession.
Assessment
The division of the marks will be according to the subject, include theory and practical performance. The pass percentage will be 50%. The students will have to pass the theory and practical examinations separately.
Duration
Program Duration: 4 Year Timing: Morning (Monday-Friday)
Entry Requirement
12 Year of Education, Matric Science, FSc (Pre-Medical) / Equivalent with 50% minimum marks The University of Chenab Entry Test / Interview is mandatory.
Careers
Graduate of Bachelor of Nursing (BSN), can work in a variety of practices such as hospitals, long-term care facilities, community and public health agencies, ambulatory care centers, public health service, military services, administration medical centers and in any setting where health care services are needed. It includes operation room, critical care and emergency departments as well. The nurse is entitled to seek specialty after many years of practice. More possibilities in the nursing profession, such as leadership, teaching, or management, are frequently a result.
Tuition Fee
Departments
Life at Chenab
Peaceful ambience, agile teaching as well as non-teaching staff, and a disciplined yet enjoyable and motivating atmosphere. Welcome to the University of Chenab. We produce professionals who are adept in their disciplines. Our institution is not only concerned with grades and education, but also take care of mental well-being of our students.
The University of Chenab represents excellence in teaching, research, scholarship, creativity and engagement. Its mission is to produce professionals outfitted with the highest standards in creativity, transfer and application of knowledge dissemination to address issues of our time.
The UChenab sculpts its graduates to become future leaders in their fields to inspire the next generation and to advance ideas that benefit the world.
The University of Chenab, Gujrat aspires to become a nationally and internationally recognized university that distinguishes itself as an embedding center for outstanding ethical and moral values, teaching quality, learning outcomes, and richness of the student experience.
The University of Chenab, Gujrat envisions a transformative impact on society through its continual innovation in education, creativity, research, and entrepreneurship.
Next Steps
Visit (Website link admission tab) and search your respective course and department on this website.
Check the admission criteria and learn about the eligibility criteria of your selected course.
If you are confused about the fee structure visit our fee guide at (link)
To search more about the campus and studies visit other events and tabs to learn about the latest news and events.
Still if there are any ambiguities then contact our admission office.
Search the page and select your course scroll to the menu and click on and option 'Apply.'
Fill the online application form with the required attachments.
After the form is submitted then you'll receive a confirmation email. Confirm your application which is then processed forward.
After the acceptance of the online registration a date and time is allocated for an in-campus test.
You must bring your original attested documents on your test day.
After sometimes the results are out so constantly check your email for the notification.
Visit the campus for enrolment.
After the enrolment attend your orientation day as it is an interactive session among students and the faculty.
Then, receive your timetable.
Finally, start a new step of your carrier.
2023 Entry
Coming Soon!